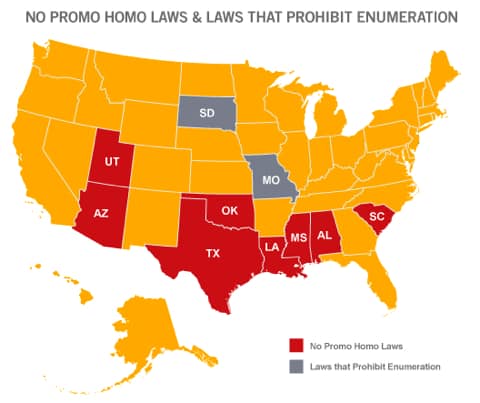 Amid the controversy over Russia's anti-gay law earlier this year, it was widely reported that at least eight US states have laws on the books that are similar, though perhaps less far-reaching. 
Now, Lambda Legal has launched a campaign targeting those laws, which the LGBT civil rights group says violate the guarantee of equal protection in the US Constitution. 
The laws, often referred to as "no promo homo" laws, restrict or prohibit the discussion of LGBT issues in the classroom, according to Lambda Legal's #DontEraseUs campaign:  
These laws are harmful and stigmatizing to LGBT students. For example, Alabama and Texas specifically mandate that, in curriculum related to sexual health education, students must be taught that being gay "is not a lifestyle acceptable to the general public." Meanwhile, Arizona prohibits instruction that "portrays homosexuality as a positive alternative life-style" in certain curriculum. Other states with anti-LGBT curriculum laws include Louisiana, Mississippi, Oklahoma, South Carolina, and Utah.
Lambda Legal says many of the "no promo homo" laws were passed in the late 1980s and early 1990s as part of legislation related to sexual health education and HIV/AIDS. However, while they may apply only to health education, they are often misinterpreted by teachers and administrators — and could even be used to prohibit instruction about Harvey Milk in a history class or Walt Whitman in a poetry class. 
What's more, the laws actually are likely to increase the spread of sexually transmitted diseases by promoting stigma that leads to risk-taking. For example, Arizona's law prohibits instruction that "some methods of sex are safe methods of homosexual sex."
And by creating a climate of discrimination, the laws contribute to the bullying of LGBT youth, who are already at a greater risk for suicide:  
LGBT students in states with these laws report hearing more homophobic remarks from school staff and are less likely to report incidents of harassment to school staff, according to GLSEN's National School Climate Survey.
The obvious difference between a group like GLSEN taking on the "no promo homo" laws and Lambda Legal doing so is that the latter has a team of attorneys to back it up. The #DontEraseUs campaign doesn't explicitly threaten litigation, but Lambda Legal clearly states that it believes the laws constitute unlawful discrimination by the government:  
By comparison, imagine if there were laws that barred classroom discussion of people of a particular ethnic descent in a positive light, or required schools to teach students that having a particular religious background is "not acceptable to the general public." These laws would treat students in those groups differently and violate their constitutional rights to equal protection.
Unfortunately, litigation may be the only way to halt implementation of the laws in many of the states, where there is little or no hope for legislative repeal in the near future.  
Lambda Legal is asking people, especially students, to join the #DontEraseMe campaign by speaking out against the laws and helping the group better understand how they're being applied. To join, go here. For frequently asked questions about the laws, go here. And for the full text of each of the eight laws, go here.