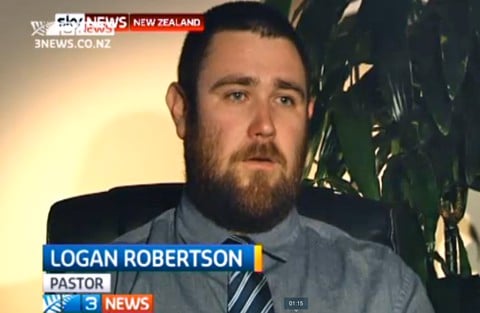 Gay people are "filthy child-molesting fag[s]" who should commit suicide, according to one New Zealand pastor. And if they don't kill themselves, it's government's job to put them to death. 
Logan Robertson (above), pastor of New Zealand's Westcity Bible Baptist Church, made the comments in an email to a gay Christian author and in a TV interview over the weekend.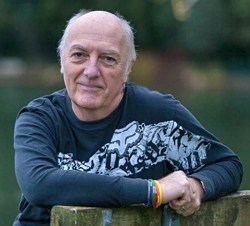 Author Jim Marjoram (right) said he emailed 400 churches in the Auckland region of New Zealand about his new book, It's Life Jim, which recounts his struggles as a gay Christian. Marjoram received only two responses, one of which came from Robertson.
"We are not interested in your filthy lifestyle or book," Robertson wrote to Marjoram. "Romans 1 clearly says God has rejected homos and they are worthy of death. You cannot be saved. I pray that you will commit suicide, you filthy child molesting fag."
After Marjoram shared Robertson's comments on Facebook, they went viral. Robertson later told a gay reporter from ONE News he would never grant an interview to a "filthy faggot" and doubled down on his statements in an interview with Sky News. 
"I think every single one of them should be put to death," Robertson said. "Christians shouldn't be doing it, I'm not going to do it, it's the Government's job to be doing it."
The leader of the Baptist Churches of New Zealand said Robertson's church, which the pastor reportedly runs out of his home, is not affiliated with the group. Robertson told Sky News he received death threats after his comments were reported, but Marjoram cautioned people against that. 
"The guy's deceived and a fruit-loop, but he doesn't deserve the same type of treatment," Marjoram said. 
Marjoram said Robertson's email was especially hurtful since he struggled with thoughts of suicide as a closeted Christian for most of his life. Marjoram and his wife ran an "ex-gay" counseling service before he came out after she died a few years ago. 
Proceeds from It's Life Jim, released today, will go toward Marjoram's support group for gay Christians, the Silent Gays Project.  
Watch news reports about Robertson's statements here and here. 
In related news from earlier this morning, America's own "kill the gays" pastor Steven Anderson recently compared gay people to ax murderers and Adolf Hitler in a heated exchange with an Arizona news anchor.