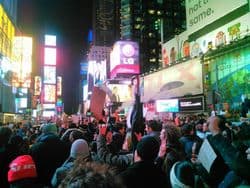 LGBT organizations reaping the benefits of the forward march of civil rights: "According to a new report by the Movement Advancement Project (MAP), leading LGBT organizations are projecting combined 2014 expense budgets totaling $185.9 million, a 14% increase from 2013 expenses. The 2014 National LGBT Movement Report also found that LGBT social justice organizations' revenues grew 7% from 2012 to 2013, with revenue exceeding expenses by $5.8 million in 2013 This financial growth continues an upward trend that re-emerged in 2011, following a downturn experienced by the LGBT movement during the Great Recession."

While President Obama, Attorney General Eric Holder and New York City Mayor Bill De Blasio reacted to the grand jury's decision in the Eric Garner case, protestors took to the streets of New York.

Al Sharpton: "This will be a winter that we're going to freeze out police brutality"

Spike Lee posts public tribute to Michael Brown and Eric Garner:
This is the tribute @SpikeLee hung to honor #MichaelBrown & #EricGarner. Spike is live on #AC360 right now pic.twitter.com/yb2qObo6if

— Anderson Cooper 360° (@AC360) December 4, 2014

U.S. Senate confirms two new appointees to the Equal Employment Opportunity Commission (EEOC), Charlotte Burrows and David Lopez. The EEOC is the nation's law enforcement agency for protecting workers against discrimination. 

Patrick Schwarzenegger and Miley Cyrus continue their romance. 

Carnivorous plant fossil found trapped in amber.

Lana del Rey drops two new songs.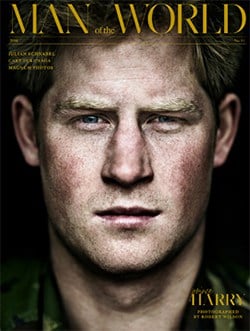 Prince Harry opens up about those nude pics that leaked from that wild trip to Las Vegas: ""It was probably a classic case of me being too much Army and not enough prince. It's a simple case of that."

Kit Harrington is not allowed to cut his hair.

James Franco's SNL promos are here.

ICYMI, Jane Krakowski's "leaked" audition for Peter Pan Live!

First look at Paul Bettany's character Vision in The Avengers: Age of Ultron.

Annie Lennox weighs in on Madonna's exposed mammaries in Interview: "I think already the verdict is probably out. Would you not agree on that one?" Lennox asked. "I think the question is, 'What is Madonna telling us? Anybody know?'"

Tyler Posey wants to serenade you–shirtless.