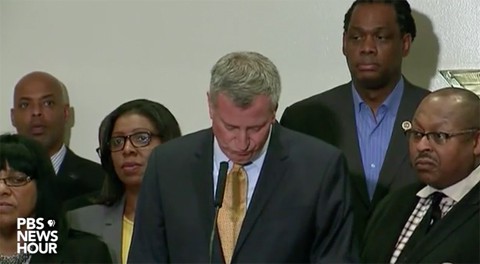 Attorney General Eric Holder said this evening that the U.S. Department of Justice will open a federal civil rights investigation into the Eric Garner case after a  Staten Island grand jury voted to bring no criminal charges against a white police officer who placed Garner, a black man, in an illegal chokehold which killed him in July.
Said Holder:
"All lives must be valued. All lives. Mr. Garner's death is one of several recent incidents across our great country that have tested the sense of trust that must exist between law enforcement and the communities they are charged to serve and to protect. This is not a New York issue nor a Ferguson issue alone. Those who have protested peacefully across our great country following the grand jury's decision in Ferguson have made that very clear."
President Obama and New York City Mayor Bill De Blasio reacted swiftly to the news of the grand jury's decision.
De Blasio became emotional during the press conference, telling reporters that he had to warn his own son about police officers that may not be out to protect him.
Said De Blasio:
"This is profoundly personal to me. I was at the White House the other day, and the president of the United States turned to me, and he met Dante a few months ago, and he said that Dante reminded him of what he looked like as a teenager. And he said I know you see this crisis through a very personal lens….And I said to him I did. Because Chirlane and I have had to talk to Dante for years about the dangers that he may face. A good young man, law-abiding young man who would never think to do anything wrong. And yet, because of a history that still hangs over us, the dangers he may face, we've had to literally train him—as families have all over this city for decades—in how to take special care in any encounter he has with the police officers who are there to protect him."
Said Obama in a separate statement:  
"We are not going to let up until we see a strengthening of the trust and a strengthening of the accountability that exists between our communities and our law enforcement."
Watch Holder, Obama, and De Blasio speak, AFTER THE JUMP…