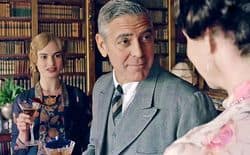 Jared Leto, Will Smith and Tom Hardy to bring their handsomeness to DC Comics' Suicide Squad.

George Clooney and Downton Abbey collide.

After 5 players on the St. Louis Rams entered the field on Sunday signalling a "hands up, don't shoot" gesture that has become synonymous with protest and outrage over the failure to indict Darren Wilson for shooting and killing Michael Brown, a St. Louis sports bar took to their Facebook to make their displeasure over the gesture known: "Due to the bone headed 'hands up, don't shoot' act by the number of Rams players on the Sunday game the Time Out Bar & Grill will no longer support the St Louis Rams, so we will no longer have Happy hours for the Rams games and all signs and pictures will be off the walls…We have to stand up to thugs who destroy our community and burn down local business, and boycott the other thugs/organizations who support them…"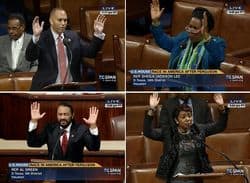 Congressional Democrats also used the "hands up, don't shoot" gesture as a sign of protest on the House floor. No word yet whether any Democratic haunts in DC have been outraged by this.
Ariana Grande and Taylor Swift worked the Victoria's Secret Fashion Show in London last night.

Bradley Cooper opens up about being sober and bulking up for American Sniper: "I did it naturally because I've been sober for 10 years and didn't want to do anything. I had a realistic conversation. Can I do this in three months naturally? Can I gain 30 pounds of f–king muscle? I didn't know if I would be able to do it or not. Thank God—luckily—my fucking body reacted fast."

Nick Jonas performs "Jealous" on The Voice.

Ellen DeGeneres and Portia de Rossi celebrate 10 years together. 

Chris Pratt hangs out by a pool, reminds us why we love him.

Activists Scott Wooledge and Dan Savage took the anti-gay hashtag #DefendTheDuggars and turned it into a moneymaker for a small Arkansas LGBT charity, Lucie's Place, that fights LGBTQ youth homelessness.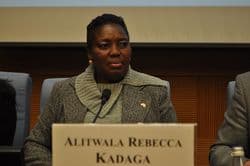 Ugandan lawmaker warns Ugandans not to allow foreigners to adopt their children because they will be recruited into gay practices: "Be very careful because gays are here to distort our heritage. We have discovered that they adopt our children and confine them in gay communities abroad to train them on gay practices. By the time they come back home, they are already influenced by homosexuality and are used to influence others in the community," she said.

Awkward: new analysis of Richard III's DNA has turned up evidence of infidelity in his family tree: "[Scientists'] analysis shows that DNA passed down on the maternal side matches that of living relatives, but genetic information passed down on the male side does not. However, given the wealth of other details linking the body to Richard III, the scientists conclude that infidelity is the most likely explanation."