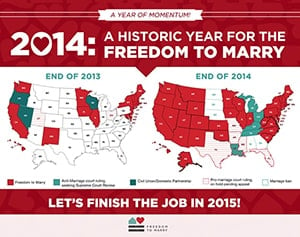 What a year 2014 has been for marriage equality!

Henry Cavill and Armie Hammer team up (and look good doing it) as cold war era spies in new Guy Ritchie-directed pic, The Man From U.N.C.L.E.

Nick Jonas tells Kode Magazine his girlfriend doesn't mind his gay sex scenes in Kingdom: "Luckily, she knows what it's like to work on projects where you're putting yourself out there to the public. It may seem like something that would make people uncomfortable, but I'm very lucky to have a girlfriend who understands."

Helen Mirren and Ryan Reynolds fight to get Nazi-stolen art returned in new film Woman in Gold.

That thing is still growing on Zac Efron's upper lip.

J.K. Rowling reveals what the world has in store for Draco Malfoy post-Deathly Hallows (spoilers ahead).

Pope Francis eviscerates Vatican bureaucracy in his Christmas address on Monday: "In his annual speech, Francis warned against what he called a lust for power, hypocritical double lives and the lack of spiritual empathy among some men of God. He listed the 15 "ailments and temptations" that weaken their service to the Lord, inviting them to a "true self-examination" ahead of Christmas. In strong yet colorful language, Francis criticized the Curia, the administration that runs the Holy See, for a narcissistic "pathology of power" and "existential schizophrenia."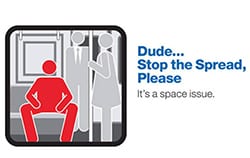 Apparently, "Manspreading" is a thing and something New York City's MTA wants to crack down on.

Amy Adams would not talk to The Today Show about the Sony hack, leaked documents from which reportedly mention her. The Today Show decided it was best to cancel the interview.

Madonna keeps her Christmas decorations simple and to the point.

Does your dog dance when (s)he sees you?

AP names Frozen top entertainer of the year.

New Judd Appatow-produced Pee Wee Herman movie heading to Netflix.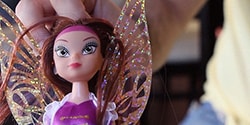 The world's first transgender fairy doll? Parents are crying foul when Chinese manufactured fairy dolls appeared to have male genitalia. However, a manufacturing defect may be to blame: "In molded plastics, you won't find mysterious holes, but you will occasionally find small protuberances that allow the part to be pulled from the mold. I think what we are actually looking at is not so much a penis, as that manufacturing aid. If you are wondering why you rarely see these manufacturing tabs, it's because most companies would have a "trim station" during the process where that bit of plastic would removed. Unfortunately, it appears this Chinese company thought they'd save the fraction of a fen it would cost to castrate the pretty fairy doll before packaging, and keep mothers out of panic mode. And so, because a Chinese manufacturer was being thrifty, we now have what is being called the world's first trans doll."

Man rams van into Christmas market in western France: "Fears of a wave of lone wolf attacks in France have intensified after a man rammed his van into a crowded Christmas market in Nantes before attempting to stab himself to death. At least 11 people were injured, with five including the driver suffering serious injuries, following the incident in the western French city's main square, place Royale."

Rock star Joe Cocker is dead at 70.