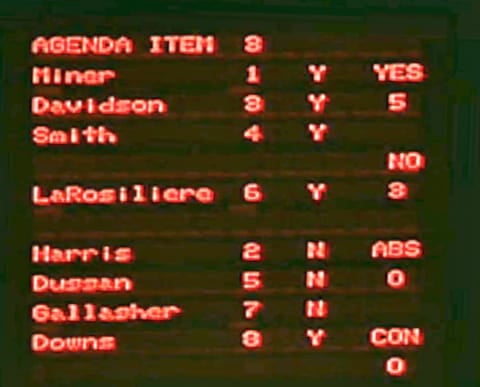 Despite intense opposition from anti-LGBT speakers, the City Council in Plano, Texas, voted 5-3 Monday night to ban discrimination in employment, housing and public accommodations based on sexual orientation and gender identity. 
Thirty-four people signed up to speak on the proposal, with all but a handful opposing it. Many attended the meeting in response to calls to action from anti-LGBT groups, including Texas Values and the Liberty Institute. Several Republican state lawmakers also drafted a letter to the City Council calling for the ordinance to be postponed. 
But council members were undaunted by speakers who threatened to file lawsuits against the city or vote them out of office if they passed the ordinance. Mayor Harry LaRosiliere, an LGBT ally, compared the city's lack of LGBT protections to historical U.S. laws counting blacks as three-fifths of a person or barring women from voting.   
"Tell me the appropriate time to do the right thing," said LaRosiliere, who is black. "Frankly, the question is not, 'Why now?' It's, 'What took us so long?'"
LaRosiliere repeatedly quieted cat calls from opponents of the ordinance in the audience, threatening to have people removed from the meeting. He also responded to accusations that the city tried to sneak the ordinance through, saying it was properly noticed and the council held a public hearing even though it wasn't required to. 
"Nobody tried to bury this item," he said. 
Councilwoman Andre Davidson responded to speakers who objected to the ordinance on religious grounds. 
"Quite honestly, if my goal really is as a Christian to emulate Jesus, that means serving all of mankind," Davidson said. "And with that in my heart, I truly believe the right thing to do is to support this ordinance." 
Councilman Pat Gallagher made a motion to postpone consideration of the ordinance, but the motion failed. 
Jeff Mateer, an attorney for the anti-LGBT Liberty Institute, which is based in Plano, threatened litigation against the city. He said similar laws in other parts of the country have put bakers, photographers, florists and wedding chapels out of business when they refused to serve same-sex couples. 
"This ordinance is unlawful and it's unconstitutional," Mateer said. "Suffice is to say, if you pass it, we will sue you."
State Rep. Matt Shaheen, R-Plano, who was representing a group of elected officials opposed to the ordinance, told council members that instead of adding sexual orientation and gender identity to nondiscrimination laws, they should consider removing blacks and women.  
"Do we really think the citizens of Plano are going to discriminate against women or minorities or African-Americans? I don't think so," Shaheen said. "I would ask you to consider that — not adding classes, but taking away classes." 
City Attorney Paige Mims noted that several other major Texas cities have similar laws — including Austin, Dallas, Fort Worth and San Antonio. Plano — Texas' ninth-largest city with a population of 270,000 — is home to several major corporations. 
"They're reporting great success with this," Mims said of the other cities. "None of them have been sued and had their ordinances overturned." 
Mims also sought to counter misinformation about the ordinance. She noted that the public accommodations provision contains an exception for restrooms and similar facilities, which can still be segregated according to gender. Mims also rejected the notion that the new law would criminalize religious beliefs.
"That's a legal fiction," Mims said, adding that religious beliefs are protected by the First Amendment. "There is no criminalization of religious beliefs in the United States."
One transgender advocate said exceptions in the ordinance go too far. 
"This effectively establishes legal authority for a genital rule (or even more broad characteristics and possibly documentation that lists sex or gender) to govern access [to] all sex-segregated public spaces," wrote Nell Gaither, president of Trans Pride Initiative.
Gaither noted that the ordinance also exempts nonprofits, political organizations and educational institutions.  
"So, what we see apparently is an ordinance written basically to protect the privileged folks coming to town for the Toyota plant," Gaither said. "Again, I hope someone can show that we are wrong on this, but right now, it looks like Plano did not do good, and neither did the folks involved who supposedly would have been representing the community."
Watch video of state Rep. Shaheen's testimony against the ordinance, AFTER THE JUMP…