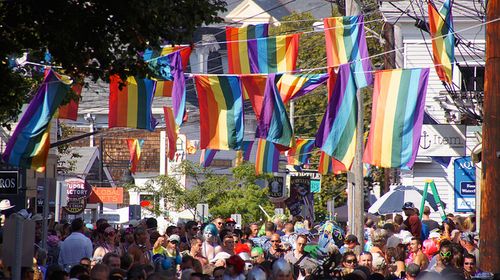 The Rhode Island Supreme Court has ruled that Theodore Fabrizio Jr. and Stephen Deninno, two Rhode Island firefighters, were not actually under social duress as claimed in their lawsuit against the state after being mandated to drive a firetruck in Providence's gay pride parade. The two firemen claimed to have endured "sexual harassment" and "sexual propositions and other offensive remarks" during the parade.
"There was no deprivation of a constitutional right,"  explained Rhode Island Supreme Court Justice William Robinson. "Participation in the parade as public servants carrying out a legitimate work assignment was not a deprivation of their constitutional rights."
Fabrizio and Deninno filed their initial suits against their former fire chief James Ratigan, the city of Providence, and former Mayor Vincent Cianci Jr., claiming that because they were Catholics they were entitled to abstaining from the parade.
"The respondents' appearance in the parade, solely as members of the Providence Fire Department, did not constitute a form of expression on their part," said Robinson. "Rather, it was simply the accomplishing of a task assigned to an engine company of the Providence Fire Department, and the individuals chosen to carry out that assignment cannot be said to have engaged in personal speech by carrying out their work as public servants."