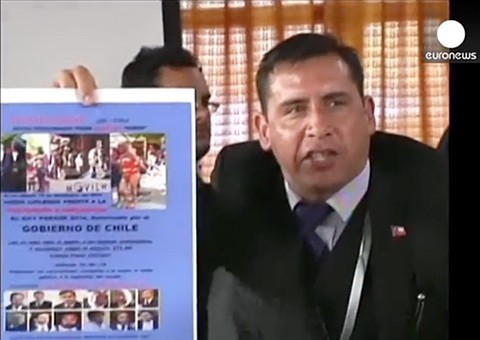 An anti-gay evangelical pastor named Javier Soto was ejected from the Chilean House of Deputies yesterday and began attacking lawmakers for approving an LGBT-inclusive initiative that would give legal protections to unmarried couples.
Soto burst into the chamber holding a poster for the AVP (Acuerdo de Vida en Pareja) bill, yelling (translation via euronews):
"Record, gentlemen… This is the filth they are offering up? To Chileans, this is perversion. This half-naked man… look at this and film it, gentlemen. This is what Mr. Rolando Jimenez (spokesperson for gay rights group Homosexual Movement of Integration and Liberation) does. Just look. Tell me otherwise."
He added: "I am an evangelical pastor and defend the gospel, gentlemen. Does this not lack modesty and decency?"
Soto then proceeded to go into full meltdown mode, and attacked Deputy Peter Brown before being ejected from the room.
The debate caused concern for the safety of lawmakers as nobody knew how Soto had gained access to the chamber but LGBT rights group MOVIHL told Noticia Cristina that it was by the invitation of another Deputy, Jorge Sabag.
Watch videos of the incident, AFTER THE JUMP…