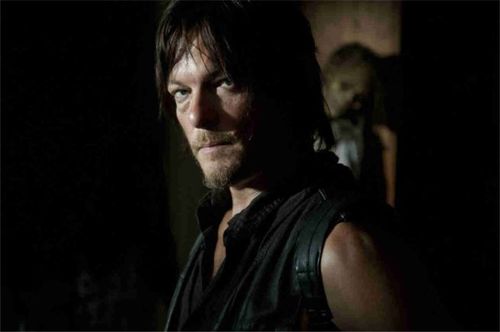 Fans of AMC's The Walking Dead have long speculated that Daryl Dixon (played by actor Norman Reedus) might be gay – especially with four seasons having come and gone without the volatile zombie hunter developing romantic attractions for any of the show's rotating female survivors.
Those speculations reached a fever pitch a few months ago after the comic's creator, Robert Kirkman, claimed that Dixon being a gay character had already "been discussed" with AMC and that network execs had seemingly given the green light to the possibility. Reedus himself even sounded off on the rumor, saying that he liked the idea of Dixon being "prison gay". 
Sadly though, for fans who were clinging onto these sly comments in the hopes of seeing Dixon in the arms of another man later this season, those rumors have now been squashed by Kirkman.
Said Kirkman on the Talking Dead after-show last night, according to Comicbook.com
"We play Daryl Dixon as being somewhat asexual on the show. He's a very introverted character and I think that's some of his appeal," Kirkman said. "I do have to clear something up, though: in the letter column of the comic book that I do, I mentioned that there was a possibility early on about making Daryl Dixon's character gay. It caused quite a hubbub online and I just wanted to clarify that the possibility is there and that I would have been fine with it, the network would have been fine with it, but we ultimately didn't do that. I can make it official: Daryl Dixon is straight."
He added that in the second half of the season, the show will be debuting a "very prominent gay character from the comics," likely Paul "Jesus" Monroe or Aaron.
Walking Dead fans, what are your thoughts on the news? Were you hoping for a gay Daryl Dixon?