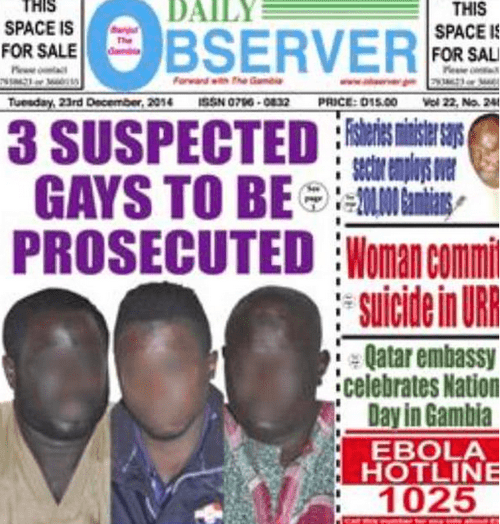 On Tuesday the U.S. dropped The Gambia from a popular free trade agreement, the African Growth and Opportunity Act of 2000, in response to the country's crackdown on LGBT rights and other human rights concerns reports BuzzFeed. The decision comes after The Gambia announced that three men would be put on trial for homosexuality; the three men are the first to face trial since police began arresting people on allegations of homosexuality in November. Currently 16 others are held in detention, leaving Gambian human rights activists unsure if the captives are even still alive. Ned Price, a spokesman for the White House, emailed BuzzFeed regarding the situation.
Said Price:
"The U.S. Trade Representative (USTR) has been monitoring the human rights situation in The Gambia for the past few years, with deepening concerns about the lack of progress with respect to human rights, rule of law, political pluralism, and the right to due process.
"In addition, in October, Gambian President Jammeh signed into law legislation that further restricts the rights of LGBT individuals, including life imprisonment for so-called 'aggravated homosexuality.' Reports have surfaced of arrests, detention, and torture of individuals because of their perceived sexual orientation or gender identity."
Gambian human rights activists secured meetings with high-ranking U.S. officials after several unsuccessful years trying to get the State Department to respond to the terrible human rights record of President Yahya Jammeh. With the help of the Human Rights Campaign, activists believe the Obama administration is finally regarding them as a force in influencing U.S. foreign policy.
The meeting earlier this month that was held with Gambian human rights activists and White House officials was the first time they met with someone from the State Department regarding Jammeh's human rights record. Under the AGOA trade agreement, The Gambia was exporting an estimated $37 million in goods to the U.S. each year, duty-free. The U.S. essentially expelled The Gambia from the special trade status. This marks the first significant time the U.S. revoked trade status with an African nation, except when a government was overthrown in a coup according to statements from Jeffrey Smith, the advocacy officer with the RFK Center for Justice and Human Rights. Sudan was also dropped from the agreement for refusing to move toward peaceful solutions however, the country does not have any significant trade between itself and the U.S.