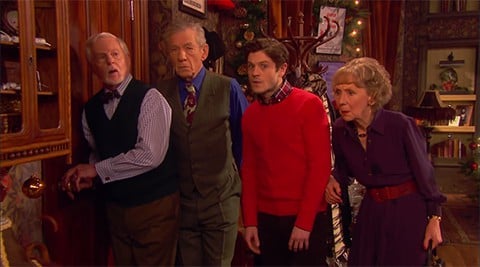 Just in time for the holiday comes the Vicious Christmas special set to air tomorrow on most PBS stations here in the States. The show stars Sir Ian McKellen and Derek Jacobi and follows English thespians Freddie and Stuart, an older gay couple embroiled in a decades-long love/hate relationship. While season 2 has yet to debut state-side, we at least get to revel in their deliciously acrimonious celebration of Christmas. From Slate:
The episode partakes in the British tradition of bringing back beloved TV shows for a fun visit during the holiday season. Appropriately, the story depicts a Christmas party in the couple's London flat that goes awry once the bubbles get going and gal-pal Violet (played by the wonderful Frances de la Tour) initiates a game of "Truth or Dare."
Watch the trailer, AFTER THE JUMP...and remember to set your DVR so you can watch when your yuletide celebrations are becoming a little too bright and gay.