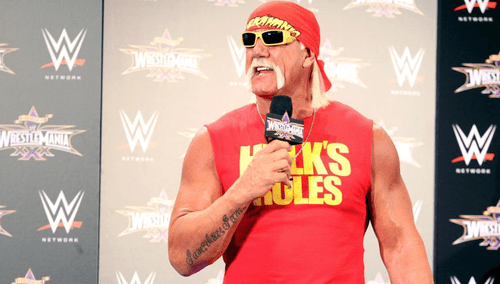 Wrestling legend and former reality star Hulk Hogan said in a recent interview that the wrestling industry has moved past the "barbaric mindset" which once made it unsafe for athletes to be openly gay reports Huffington Post. Interviewers asked Hogan in an in-person meeting about the spate of professional athletes, including World Wrestling Entertainment superstar Darren Young, who have come out in recent years.
Said Hogan:
"At least for me — and I can only speak from my heart — I've got people all around me who are gay, so it's not an issue with me. I think the whole world feels like that now."
Hogan's optimistic thoughts about the state of LGBT individuals around the world is far from accurate however, various areas of American sports are seeing a rise in gay athletes coming out. Jason Collins continued his career with the NBA after coming out in April 2013 and Michael Sam, GQ's Man of the Year, entered into the NFL as well, albeit suffering setbacks. In the sport of wrestling, WWE's Darren Young revealed his sexual orientation just last year. Hogan never viewed homosexuality as abnormal and met several gay wrestlers around the world.
Said Hogan:
"There are several wrestlers in Japan who are gay. I've just never looked at it as anything weird. It was normal."
WWE now partners with GLAAD, formerly known as the Gay & Lesbian Alliance Against Defamation, on their programs including the "Be a Star," anti-bullying campaign. Wrestler Pat Patterson, a longtime wrestler and friend of Hogan's, came out this year in June on the WWE reality series Legends House, tearfully sharing his long-standing fear that news of his homosexuality would end his sports entertainment career. However, Hogan has known of Patterson's sexuality since 1976.
Said Hogan:
"I knew Pat was gay back in 1976, when he helped me start wrestling. Whenever I see Pat, I give him a big hug and kiss. He's my guy!
"Back when Pat was wrestling, he was afraid to be who he really is — or was meant to be — because of all this stuff he inherited from society. You're supposed to be this tough wrestler.' 'You're supposed to be this good-looking, platinum blonde champion who goes out and dates the best looking women.' 'You're supposed to be this.' 'You're supposed to be that.' But that's not true! Pat Patterson is supposed to be who he's meant to be, not who people think he should be, if that makes any sense."
Although Hogan believes the wrestling industry is now re-educated against stereotypes, 1980s wrestling was rife with harmful stereotypes about "savage Africans," and "evil gays." Watch Hulk Hogan take on the "Adorable" Adrian Adonis, wrestler Keith A. Franke's flamboyant gay caricature and persona, in the 1986 WWF Title bout, AFTER THE JUMP…