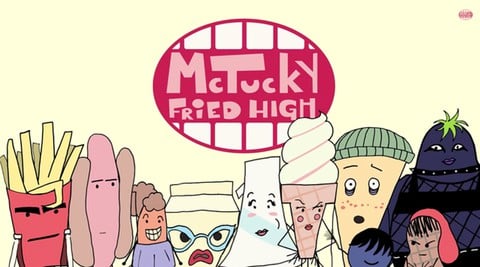 McTucky Fried High is a new bimonthly LGBT web series set in a high school with students who are assorted food items (foodents?). The series plans to take on issues like gender identity, bullying, and coming out.
In the show's first episode Henry Fry, a football player, comes out of the closet, sending the foodent body into chaos as the each try to get a piece of the school's first openly gay athlete.
The Gay-Straight Alliance wants to recruit him, the mean girls (Sheri Soda and Shirley Cone) want a shiny new GBF, Angela Babycarrot wants to be the first female Food Council President (after Celery Clinton) and plans to use the situation to her advantage, while her closeted best friend Kevin Wiener is seriously crushing on the newly-out fry guy.
Check out episode one, AFTER THE JUMP…