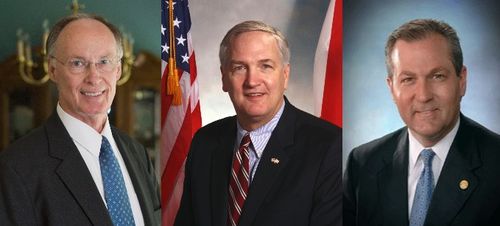 State officials in Alabama are none too pleased with District Judge Callie V.S. Granade, who issued a ruling late Friday striking down the state's ban on same-sex marriage. 
Tweeted Governor Robert Bentley:
The people of AL voted in a constitutional amendment to define marriage between man & woman. I'm disappointed by the ruling &will review it.

— Gov. Robert Bentley (@GovernorBentley) January 24, 2015
Alabama House Speaker Mike Hubbard was even less pleased with the ruling:
"It is outrageous when a single unelected and unaccountable federal judge can overturn the will of millions of Alabamians who stand in firm support of the Sanctity of Marriage Amendment. The Legislature will encourage a vigorous appeals process, and we will continue defending the Christian conservative values that make Alabama a special place to live."
Buzzfeed's Chris Geidner has something to point out though:
Alabama Spkr Hubbard says "millions of Alabamians" in support of amendment. Less than 700,000 voted for it, per Wiki. pic.twitter.com/YlvBEhvLh0

— Chris Geidner (@chrisgeidner) January 24, 2015
Alabama Attorney General Luther Strange, meanwhile, filed an emergency stay request with Judge Granade, calling her ruling "disappointing." If the stay request is denied, Strange can take it to the Eleventh Circuit Court but he should be aware the court turned down a similar stay request from the state of Florida last month. If no stay is issued, same-sex couples in the state should be free to tie the knot first thing Monday morning once county clerks' offices open. 
Read the ruling below via Equality Case Files: