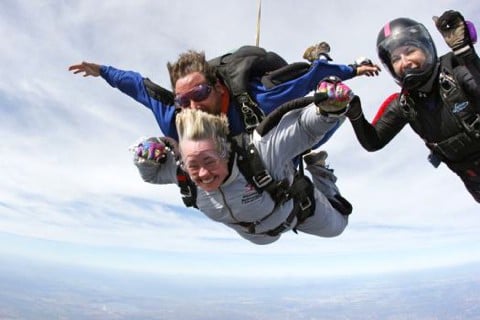 Annise Parker plunged into her final year as mayor of Houston from 14,000 feet at 120 mph. 
As a team-building exercise, Parker went skydiving for the first time Sunday with members of her executive team and City Council aides. 
From a press release: 
Mayor Annise Parker got a jump on the work ahead in 2015 with some extreme team building at Skydive Spaceland near Rosharon. 

The mayor was joined by a group of about 20 that included members of her executive team, City Council aides and others.  This was the mayor's first time skydiving.  She jumped from 14,000 feet, which is 2.6 miles high.  There was an 8,000 foot free fall at 120 MPH before the chute was pulled and she glided to a safe landing. It was a tandem jump done with the assistance of Skydive Spaceland's trained instructor Henry Prewitt.

"Honestly, this wasn't on my bucket list," says Mayor Parker. "My staff had been planning this for awhile and my original intention was to simply be on hand to support them.  As their team leader, though, I couldn't just stand by and watch. If they can do it, I can do it. I'm not sure, however, it is something I'll do again." 

When asked what was the best part of the jump Mayor Parker said, "being back on the ground."
Parker also tweeted about the experience: 
One more thing I don't have to do again! Yes, today I jumped out of a plane at 14000 ft. Mayor's office & friends.-A pic.twitter.com/sHCkP5FwUW

— Annise Parker (@AnniseParker) January 4, 2015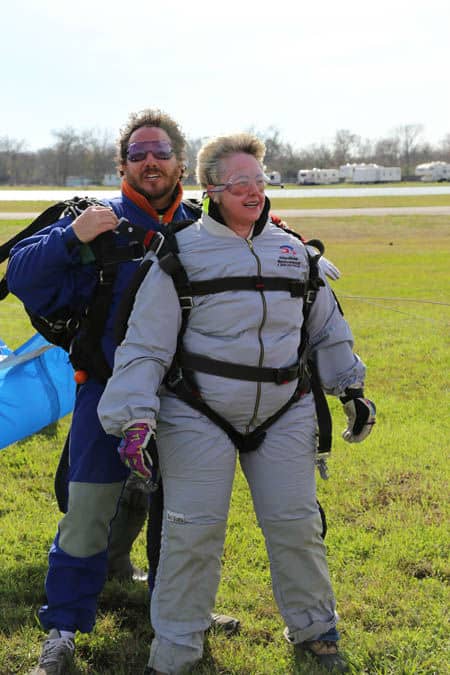 In 2009, Parker became the first openly LGBT person elected mayor of a major US city. But her third and final two-year term as Houston mayor has been her most controversial. She's been sued for extending benefits to the same-sex spouses of city employees and over an LGBT-inclusive nondiscrimination ordinance passed in 2014. While the same-sex benefits case is on hold pending the outcome of a lawsuit challenging Texas' marriage ban, the nondisrimination case is set for trial Jan. 19. 
Later Sunday, after the skydive, Parker reconfirmed her intention to eventually run for higher office. From The Houston Chronicle: 
"I hope to be able to continue to serve the citizens of this city or this state, but a lot about politics is timing," she said, noting that many statewide officials were just elected in 2014. "I'm going to need some work to do."

Parker said she could see herself working for a non-profit and had no interest in returning to the private sector.

Her comments on Sunday came months after she delivered a well-received speech at the Texas Democratic Convention, when she acknowledged her statewide potential in an interview.

"As the CEO of the 4th largest city in America, I could be the governor of Texas," she said.
For a slideshow from Parker's skydive, go here. 
Watch Click2Houston.com's video of the mayor's dive, AFTER THE JUMP …