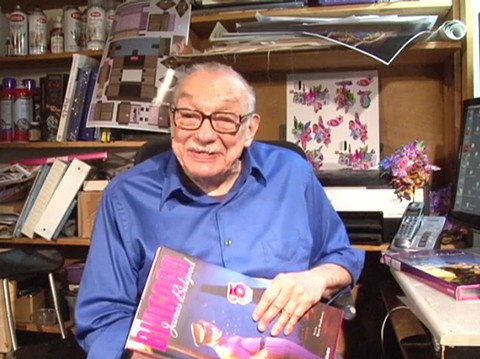 James Bidgood, the photographer and filmmaker behind the groundbreaking fantastical 1971 gay film Pink Narcissus, which was shot entirely in his apartment with sets he built himself, and whose photographs served as a reference point for later photographers like David LaChapelle and Pierre et Gilles, needs a new camera. Read a lovely profile on Bidgood over at VICE.
Bidgood has a new project he would like to make a reality and has launched an Indiegogo campaign.
He writes, in part:
I have acquired… accumulated over the years…. the knowledge how to achieve my vision whatever it might be. The first photos I took… never having been to any photography school were of a sea nymph swimming in his underwater fantasy world and it was shot in my front room. There were nothing but naysayers then. They all laughed when I sat down at the piano …but when I played!!!!
And so despite the doubters that still surround me with warning after warning, I am asking for your help to rise again above their protests and to prove to some small part of the world that neither age, nor fear of failure and being stored away in some home for the poor and elderly, nor any amount of good sense and despite how humble my circumstances…dreams can still be made into realities.
Watch Bidgood's good bid, AFTER THE JUMP…
And help him out HERE if you feel so inclined. One of Bidgood's works from the 1960s, below, via.