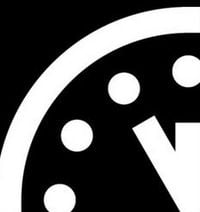 In 1947 members of the Bulletin of the Atomic Scientists's Science and Security Board introduced the concept of the Doomsday Clock, a symbolic representation of the world's proximity to a global catastrophe.
Since its inception the meaning of the clock's countdown has been further expanded to include the imminent threat posed by climate change, and it's that same threat that recently prompted the Bulletin to update the clock's reading ahead two minutes to 23:57 (three minutes to midnight.)
"In 2015, unchecked climate change, global nuclear weapons modernizations, and outsized nuclear weapons arsenals pose extraordinary and undeniable threats to the continued existence of humanity," the Bulletin's statement on the update explains. "World leaders have failed to act with the speed or on the scale required to protect citizens from potential catastrophe. These failures of political leadership endanger every person on Earth."

Historically the Clock's reading has shifted back and forth in response to the behavior of the world's various superpowers. The Clock has read 23:57 twice before (1949 and 1984), both times following the escalation of nuclear arms by a particular international actor. Climate change was added to the Clock's list of influential factors in 2007 and was related to both of its most recent adjustments in 2010 and 2012. The clock has only once read 23:58 (two minutues to midnight) once back in 1953 during the U.S. and Soviet Union tests of thermoculear devices during the Cold War. 
"We call upon world leaders to take coordinated and rapid action to drastically reduce global emissions of heat-trapping gases, especially carbon dioxide," said Richard Somerville, a member of the Bulletin of the Atomic Scientists' Science and Security Board. "We also urge the citizens of the world to demand action from their leaders. This threat looms over all of humanity. We all need to respond now, while there is still time."