Same-sex civil unions are set to become the law in Chile after the Senate on Wednesday gave final approval to a bill passed by the House last week that President Michelle Bachelet (pictured) has said she will sign, the Washington Blade reports: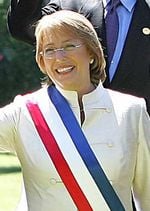 The Chilean Senate approved the measure by a 25-6 vote margin with three abstentions. The bill passed in the country's House of Representatives by a 78-9 vote margin.
"A historic step against discrimination and for the advancement of human rights has taken place today with the passage of the civil unions bill," said the Movement for Homosexual Integration and Liberation, a Chilean LGBT advocacy group, in a statement.
AFP adds:
The law, which has been in the works for four years, gives legal recognition to unmarried couples and ensures their rights to receive pensions, enroll in health plans and inherit property from one another.
It also gives them greater standing in child custody cases.