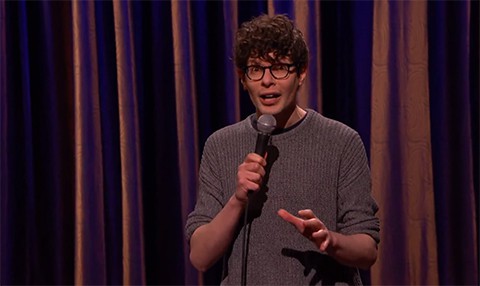 Out gay comedian Simon Amstell appeared on Conan O'Brien's late night show this week and riffed on how he regrets not having had more sexual adventures before settling down in a relationship. However, the comedian notes that the type of adventures he craves are not ones he's particularly well cut-out to handle. Nor are they situations he feels he has a lot to offer. An orgy, for instance: "My personality is not suited to an orgy. What I bring to a social setting is humor. That is not required at an orgy. No one wants to be sarcastically fellated." 
Amstell also shares a fantasy he had while on vacation in France with his boyfriend that caught him off-guard: 
"Even though it's perfect, even though I love [my boyfriend], I fall asleep next to him, I have a dream that I'm being seduced by this wet dungeon boy and not wet from water. Covered in lubricant. And I should have known it was a dream because it was too much lubricant."
Watch as Amstell hilariously recounts his dream and how it almost ruined his vacation, AFTER THE JUMP…