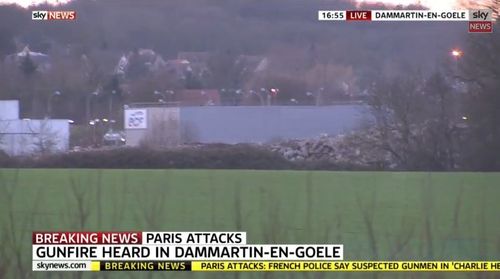 UPDATE: Cherif and Said Kouachi, the suspects in the Charlie Hebdo terrorist attack, have been killed in by security forces, Otis Mayor Bernard Corneille said. 
The New York Times reports:
French police on Friday killed the two brothers suspected of murdering 12 people at a Paris newspaper on Wednesday and freed his hostage unharmed, the authorities said. The police launched a simultaneous raid on a kosher supermarket in Paris where an alleged associate of the brothers was holding an unnamed number of hostages. At least some of hostages escaped unharmed, according to the police.
More here. Originial story below. 
France is once again on high alert this morning as two standoffs with gunmen are underway in and around Paris. CNN reports that authorities have not said if and how the situations are related, but one involves the two brothers wanted in the Charlie Hebdo massacre that claimed the lives of 12 people (10 journalists and two police officers) Wednesday. 
The Washington Post reports: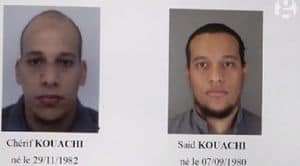 In Dammartin-en-Goele, about 25 miles northeast of Paris, thousands of antiterrorism forces encircled a commercial building, where the armed pair suspected in the newspaper massacre was holed up with at least one hostage.
The standoff unfolded with authorities mobilizing commando-style units capable of storming the single-story printing business.
But negotiators also reached out to the brothers, who are believed armed and possibly preparing for a last-stand siege.
Reunters reports on the second hostage crisis:
A police source said several people were taken hostage at a kosher supermarket in eastern Paris after a shootout involving a man armed with two guns.
The source said he bore a resemblance to the gunman suspected of killing a policewoman in a separate shooting in southern Paris on Thursday and believed to be a member of the same jihadist group, Butte Chaumont, as the two Hebdo suspects.
Police released pictures of a 32-year-old man, Amedy Coulibaly, and a 26-year-old woman, Hayat Boumeddiene, wanted in connection with the southern Paris incident.
CNN adds that French President Francoise Hollande held a crisis meeting Friday afternoon with senior Cabinet members at the Elysee palace in Paris.
Watch Sky News' live coverage of the developing story, AFTER THE JUMP…