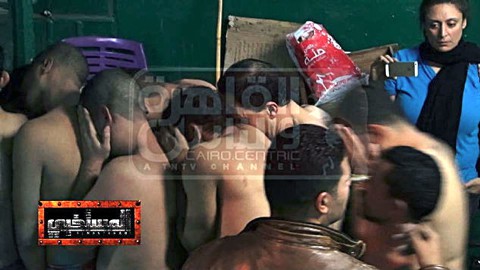 As we reported yesterday, the trial of the 26 men arrested last month in a raid of a gay bathhouse in Cairo is now underway and already proving both ludicrous and tragic. In an Op-Ed piece published today, The New York Times criticized the Obama administration and congressional leaders for continuing to provide financial assistance to Egypt amidst the country's "crackdown" on gays and for failing to condemn the country's egregious actions:
Egypt's treatment of gays is part of a dismal human rights record that has only gotten worse in recent months. The Obama administration and American lawmakers have not done enough to denounce the abuses of an increasingly authoritarian Egyptian government, which is one of the largest recipients of American military aid. As Congress convenes this week, influential lawmakers should take a fresh look at the plight of vulnerable Egyptians and speak out on their behalf. Among them are Representative Kay Granger, a Texas Republican who has fought efforts to pare back Egypt's military package, and Senator Bob Corker of Tennessee, the incoming chairman of the Foreign Relations Committee.
The 26 men on trial now may never be able to shed the stigma this prosecution has inflicted on them, their careers and their families. But strong international condemnation may keep authorities in Egypt from victimizing more men.
in 2014, the U.S. gave $1.5 billion in aid to Egypt, "with the majority of it going to the country's military," according to The Washington Blade. 
The raid on the Cairo bathhouse was documented and orchestrated by journalist Mona Iraqi who aimed to expose "the biggest den of group perversion in the heart of Cairo." While Egyptian law does not strictly ban homosexuality it does criminalize debauchery and perversion, both of which being charges that have been leveled against the 26 men who were arrested on December 7th.