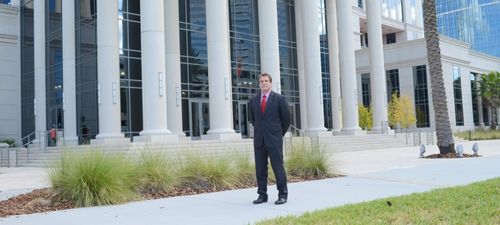 Earlier this month we reported on a number of Florida county clerks that had decided to discontinue all courthouse wedding ceremonies rather than open up the space to same-sex couples following the legalization of marriage equality in the Sunshine State.  
Now, a Duval County lawyer is planning on filing a lawsuit to reverse Duval Clerk of Courts Ronnie Fussell's decision to close the county's wedding chapel, saying Fussell (pictured below) circumvented the law and crossed the line by "discriminating against large numbers of Jacksonville's citizens, including both same sex and heterosexual couples, as well as the poor and physically infirmed."
Wrote attorney Eric Block on his law blog:
I am going to challenge this decision. I believe that we will prevail because the Clerks' actions around the State violate the spirit of the Federal Court Order legalizing same-sex marriages in Florida, but there are additional compelling reasons.
We spent millions of dollars ensuring that our Courthouse is compliant with the ADA (Americans with Disabilities Act), and people needing ADA accommodations now have nowhere to go.
We built our $350 million Courthouse with taxpayer dollars, including revenue from citizens who are gay, citizens requiring the assistance and provisions of the ADA, and most importantly, those who struggle financially.
This action of shutting down the Wedding Chapel ironically adversely affects more heterosexual couples than gay couples, simply because more heterosexual couples get married.  Therefore, ironically, the absurdity of our Clerk's actions is to discriminate more profoundly against the very people that he actually is claiming to "protect."
Additionally, there is a small fee for the use of the Wedding Chapel, and that fee helps to pay the salaries of Courthouse public employees including the very Clerk of the Court who shut down this stream of revenue!  The Clerk does not have the right to make such financial decisions on behalf of the City.
Most obviously, the Clerks' actions violate the spirit of the Federal Court Order protecting same-sex marriages in the state of Florida.
We are in the process of obtaining Plaintiffs for our intended lawsuit against these Clerks. It is our intention to bring suit on behalf of not only same-sex couples, but heterosexual couples as well, as both are adversely affected by this clear homophobic reaction to the Federal Court Order.
Block, who as a young lawyer got married at the Duval County Courthouse, has also said he will perform wedding ceremonies for any couples (gay or straight) that were impacted by the chapel's closure for free.