Former NYC City Council Speaker and mayoral candidate Christine Quinn is joining Governor Andrew Cuomo's administration as a special adviser to the governor, the NY Daily News reports: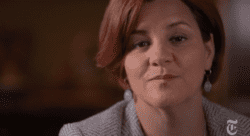 Quinn will be a part-time staffer until mid-April when she finishes her stint as a resident fellow at Harvard University's Institute of Politics, a source said. After that, she will jump on board full-time. Her salary is unclear, though it will be lower while she's on the payroll part-time, the source said.
Said Cuomo in a statement: "Christine Quinn is a proven leader and champion of progressive causes, and I am proud to have her join our team. I am confident that she will fight for the issues most important to New Yorkers just as she did as Speaker of the City Council and during her many years as a public servant and advocate."
The WSJ adds:
The former speaker made her first public appearance in her new role Saturday morning at New York University, where the governor announced a proposal to combat sexual assault on college campuses.
"I want to take a moment to thank you, governor, because you have made the issue of women's equality–women deserving full equality–a priority," Ms. Quinn said…
…Mr. Cuomo and Ms. Quinn exchanged a few jokes before their announcement. "Chris said to me, 'I'm glad to be here, but let me ask you: Do we always work on Saturdays?' " Mr. Cuomo said. "I told her, 'No, just once a week, really.' "