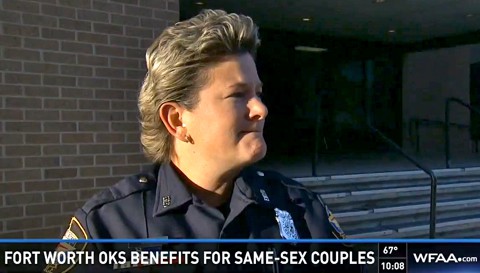 Fort Worth will begin recognizing same-sex marriages on Feb. 1. The city announced Wednesday it is extending spousal benefits to same-sex couples who are legally married in other states. 
The city already offers health insurance to same-sex partners, but the decision to begin treating them as spouses will extend equal benefits to other areas, including pension plans. It will also bring the city into line with IRS rules issued in the wake of the U.S. Supreme Court's decision in Windsor v. United States.
From the city's employee newsletter: 
The City of Fort Worth will be extending spousal benefits to same-sex couples beginning Feb. 1, 2015.

This change will allow the city to follow the IRS's definition of "spouse" as defined for federal income taxes in the granting of survivor benefits.

Since the city's retirement ordinance does not specifically define "spouse," surviving spouses in a same-sex marriage will be eligible for survivor benefits if the survivor can prove, through documentation, that they were legally married to the employee/retiree in a state where same-sex marriage is legally recognized.
The news drew an emotional reaction from out lesbian police Cpl. Tracey Knight. From WFAA-TV: 
"When I got the news last night," she said, pausing, tears in her eyes… "When I got the news last night, it was very emotional. …

"I told my wife and we burst into tears," said Knight, who serves as the department's LGBT liaison. "We're like any other family. And God forbid if I'm ever killed in the line of duty, I want her and our child to be taken care of."
The WFAA report goes on to mention that Fort Worth has made great strides on LGBT equality since the police department's infamous raid of the Rainbow Lounge gay bar in 2009. The department is also actively recruiting gay officers, and several employees recently appeared in a TV ad supporting marriage equality. 
While numerous other cities in Texas offer benefits to same-sex partners, it is believed that only one — Houston — has done so by recognizing out-of-state same-sex marriages.
That decision from out lesbian Houston Mayor Annise Parker, which was designed to get around a city charter amendment prohibiting domestic partner benefits, prompted a lawsuit from anti-gay Republican activists. 
The lawsuit alleges that Parker's decision violated Texas' ban on same-sex marriage. The lawsuit is on hold, and the Houston same-sex benefits remain in effect, pending the 5th Circuit Court of Appeals' ruling in a federal lawsuit challenging the the marriage ban. 
However, it wouldn't be the least bit surprising to see anti-gay activists — or perhaps the Republican attorney general's office — similarly challenge Fort Worth's decision. 
Watch WFAA-TV's report, AFTER THE JUMP …