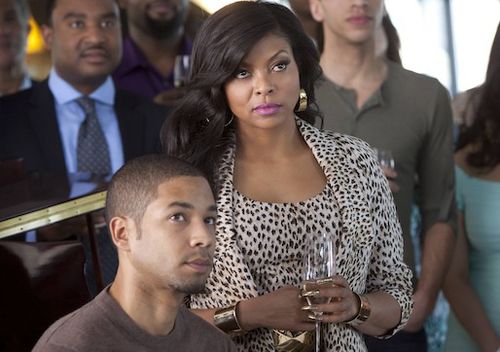 The premise of Lee Daniels's new Fox series "Empire" is everything that you would expect from an overwrought primetime TV drama. After discovering that he has amyotrophic lateral sclerosis (ALS), Lucious Lyon (Terrence Howard) realizes that he must choose one of his three sons to inherit his music empire. Things become complicated when Lyon's ex-wife and former business partner Cookie (Taraji P. Henson) is released from jail after taking a legal fall for the company.
In many ways "Empire" aspires to be an operatic television experience, which is to say that its story, though dramatic, is rather predictable. Lucious quickly decides to put his faith in his younger up and coming rapper son to be his successor. Cookie, making a power play of her own, backs Jamal (Jussie Smollett), her openly gay songwriting/producer son who's never had a healthy relationship with his father.
As the 2015 mid-season television premieres begin to air, "Empire" is one of the few programs to centrally feature a black LGBT character. What makes "Empire's" handling of Jamal interesting, however, is his relationship with his mother. Though Cookie isn't entirely on board with her son's Latino boyfriend, her hostility is shot through with a complex kind of love not often seen in depictions of black families with queer children.
Lee Daniels, who is openly gay, set out to make a soap-y television show about a wealthy black family struggling with the trapping of fame and fortune, but the story that he's crafted with Cookie and Jamal is important in its own right. Writing for the LA Times, Gerrick Kennedy correctly points out that there are likely to be many gay black men who find it easy to see themselves in Jamal:
"It's unlikely that there's a single black gay man who won't be able to identify with Jamal, who's portrayed by Jussie Smollett. He's ignored by his father, haunted by his father's abuse and is closest to his mother."
More often than not the black community is portrayed as being uniformly opposed to its gay population, but "Empire's" plot reflects a deeper dynamic. Cookie's relationship with Jamal, though influenced by her desire to challenge her husband, is that of a parent whose love is unconditional, if a bit politically incorrect at times. How "Empire" will treat its gay characters going forward remains to be seen, but if its first episode is any indication, then it's in a prime position to some much needed stories about queer characters of color and the families that support them.
Correction: An earlier version of this post dscribed Lucious as having multiple sclerosis, as opposed to ALS. As reader Merv points out the distinction is an important one given the usual severity of ALS prognoses.
Watch the trailer for "Empire" here AFTER THE JUMP…