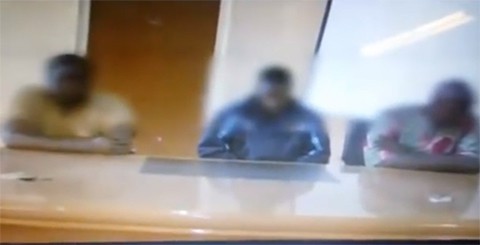 One of the three men arrested on suspicion of homosexuality in The Gambia back in December has been admitted to a hospital due to "excessive bleeding" and reportedly fears for his life.
Freedom Newspaper, a Gambian online news site, claims the individual in question is Alieu Sarr. According to the Newspaper, Sarr's situation is dire: "'Mr. Sarr has been crying on his hospital bed saying that he is going to die. He was tortured while under state custody. He appeared weak and pale,' said our source."
Human rights activist Jeffrey Smith and Gambian journalist Fatu Camara broke the news of the man's arrest and torture on Twitter. Camara noted that the man had been moved to a "private block" and authorities "stuck cotton in his nose" due to the excessive bleeding. According to Smith, the man was also being guarded by armed security.
Disturbing news from #Gambia. 1/3 "homosexuals" paraded before state TV admitted to hospital w/ 'excessive bleeding' perhaps due to torture.

— Jeffrey Smith (@Smith_RFKennedy) January 27, 2015
Update: man in #Gambia, arrested in Oct. for being gay, still at hospital in Banjul, but moved to private wing & guarded by armed security.

— Jeffrey Smith (@Smith_RFKennedy) January 27, 2015
The man is moved to the private block, room 1, they stuck cotton in his nose cause of excessive bleeding, we are following the situation

— Fatu Camara (@Fatushow) January 27, 2015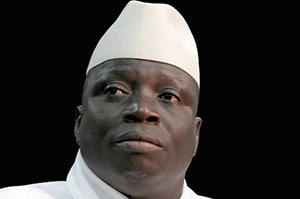 Smith suggested that notoriously anti-gay President Yahya Jammeh was using this "crackdown" on homosexuals to deflect attention away from a December coup that sought to oust him so as to boost his popularity. 
Camara spoke to BuzzFeed News detailing the atrocities suffered by Sarr and other individuals the Gambian states views as dissidents:
Camara, who was accused of treason by Jammeh and witnessed torture of others while in custody, said the regime had a history of transferring prisoners to the hospital's private blocs before they are murdered. In a 2011 case, she said, a former political ally of Jammeh's named Baba Jobe was strangled in Room 10 of the private bloc while in the custody of armed guards.
"There are many other stories of people who they take to the hospital and then they would die," said Camara. She also had been in contact with another person who confirmed the account of Sarr's condition given by the witness who spoke to BuzzFeed News.
The witness said Sarr's room is guarded by two armed soldiers. A nurse told the witness that Sarr has not seen a doctor, which Camara said is consistent with the treatment of other prisoners who have been brought to the hospital. Treatment is withheld until "instructions" are received from the regime, she said.
Though the United States dropped The Gambia from a popular trade agreement over its persecution of LGBT individuals, the Human Rights Campaign has called upon the Obama administration to take more strident actions against the West African nation, as Pink News points out:
"The United States cannot turn a blind eye to the horrific human rights abuses being inflicted on Gambians by President Yahya Jammeh's regime," said Ty Cobb, Director of HRC Global.  "As we speak, the lives of LGBT Gambians who have been arrested and secretly detained are at risk, and there are no indications that Jammeh's brutal crackdown on LGBT people and others is slowing down.
The Gambian government paraded the men it arrested for being on national television in December.
Watch the video, AFTER THE JUMP…