Last week, Republican Larry Hogan was sworn in as the brand new governor of the state of Maryland. One of his first courses of action was to withdraw several regulations, one of which is an anti-discrimination amendment (initiated by his predecessor Martin O'Malley) that would have stopped Medicaid providers from discriminating on the grounds of sexual orientation and gender identity.
Ironically, the new governor's inaugural address included a message about "tolerance and respect."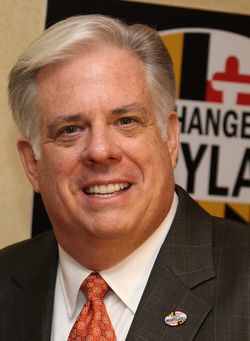 Equality Maryland immediately called Hogan out with a press release titled "Governor Hogan's First 24 Hours Start on the Wrong Foot for LGBT Maryland." It reads in part:
"Equality Maryland is disappointed in the Governor's actions. To withdraw a regulation that prohibits discrimination in the provision of essential medical services, which also has no fiscal impact, seems contrary to the spirit of inclusiveness touted in his inauguration speech yesterday. We know that trans people in Maryland face discrimination when accessing health care and we should be working to ensure this doesn't happen instead of overtly condoning it."
Hogan told the Baltimore Sun:
"We just basically pulled all the regulations that were supposed to be published on Friday," Hogan said Thursday. "We didn't like the fact that [O'Malley] was trying to push these things through at the last minute. We're going to make sure our new … team throughout government reviews every one of these regulations to make sure which direction we should head."
Hogan also issued an Executive Order for Maryland Executive Branch employees which did not initially include gender identity in its equal opportunity clause. On Friday, Equality Maryland posted that Hogan's office had done an about-face and re-issued the order to include gender identity.
Last year, Hogan revealed that his stance on marriage equality had "evolved." Let's hope he continues to do so in all other areas of equality.
Watch a news segment about his inauguration, which includes an appearance by fellow Republican Chris Christie, AFTER THE JUMP.