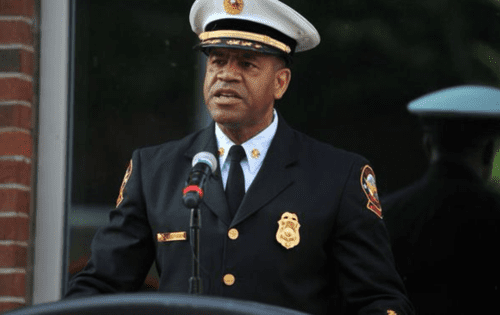 Fired Atlanta Fire Chief Kelvin Cochran officially filed a federal discrimination complaint contending that he faced religious discrimination after the city fired him for publishing a book with controversial, homophobic statements reports ajc.com. Chief Cochran mentioned that he was considering filing the complaint at a rally orchestrated by the Georgia Baptist Convention to reinstate him last week. The complaint filed on Martin Luther King, Jr. Day with the Equal Employment Opportunity Commission by Cochran's attorney, Jonathan Crumly, alleges violations of the Civil Rights Act of 1965 by the City of Atlanta. Attorney Crumly, who is allied with group Alliance Defending Freedom that has rallied to Cochran's defense, issued a statement on behalf of Cochran.
Said Crumly:
"Americans are guaranteed the freedom to live without fear of losing their jobs because of their beliefs and thoughts. We are continuing to evaluate all available legal options to vindicate Chief Cochran after his unjust termination."
Atlanta city spokeswoman Anne Torres said the city did not know of the complaint, but it intends to fully defend mayor Kasim Reed's decision to fire Cochran. Reed affirmed in past statements that Cochran's firing was not a direct result of homophobic comments in the book, but because of Cochran's ability to manage the department and disregard for obeying the rules including not getting clearance to write the book.
Cochran, a deacon at Elizabeth Baptist Church, claims in his EEOC complaint that he did obtain permission from the city's ethics office to publish the book but was later told he also needed the mayor's permission and that he also violated "unspecified policies." Cochran says top city officials told him their investigation showed "zero" instances where he discriminated against anyone as chief.