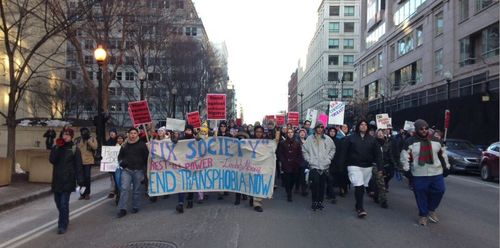 Some 200-300 people rallied on the streets of Washington D.C. Saturday to honor Leelah Alcorn, the transgender Ohio teenager who committed suicide late December following months of abuse from her Christian parents. 
News2Share reports: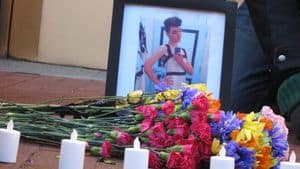 Protesters gathered at the "Justice for Leelah Alcorn Rally and March" to hear speakers and show support for the late Alcorn who took her own life, because she felt she received little support from her community.
One of the rally's organizers, Jes Grobman, is also an organizer for DC Trans Power which focuses on empowering and supporting change within trans communities.
The protest marched from Mt. Vernon Square to the Department of Justice to read a list of demands.
Lourdes Ashley Hunter, the National Director for Trans Women of Color Collective, spoke of acceptance, justice and change.
"Oppression manifests in every aspect of our lives, but the way structural oppression  is set up will have you to believe that we need to be fixed. And I'm here to tell you, we don't need to be fixed there is nothing wrong with us. What is wrong is society's depraved existence, willful ignorance, complicity, and inactive engagement which refuse trans people humanity and right to life."
The list of demands:
*We demand a national ban on conversion therapy. This is not a form of "therapy," it is abuse and needs to be stopped.
*We demand that transgender denial be treated as child abuse. In order to protect children from abusive homes that may lead them to take their own lives, transgender denial in parents must be addressed with restorative justice.
*We demand easier access to medical treatments for transitioning. It should be cheap, covered by insurance, and be accessible to minors. Transgender people have the right to control their bodies and we demand that the state recognize that.
*We demand statements from Leelah's church and religious leadership in general condemning conversion therapy. 
Watch a news report on the rally and Hunter's full speech, AFTER THE JUMP…