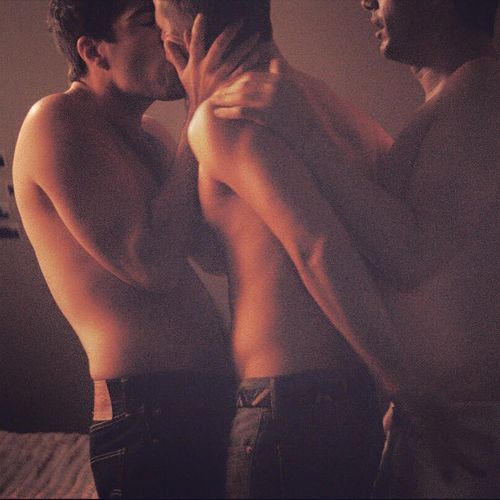 A set of new stills from the upcoming film I Am Michael, about former gay rights activist turned "ex-gay" poster boy Michael Glatze and starring James Franco, Zachary Quinto, and Charlie Carver, gives us the first look at a three-way sex scene between the actors as well as other key moments.
Franco plays Glatze while Quinto plays his then boyfriend Bennett. The duo bed Carver's character in a club, according to a November report from E!:
"They first meet in a club. The music is pumping. It's the eighties!" a source said. "When Charlie's character questions Franco about having a boyfriend, Franco says, 'He'd like you, too.'"
Cut to the bedroom, where the three are naked, intertwined and "kissing," the source said. "You see their asses." […]
The three enjoy a romance, but when Michael leaves, the breakup is "disastrous and heartbreaking," the source said.
The film, produced by Gus van Sant, is premiering at Sundance. It's based on the Benoit Denizet-Lewis NYT article "My Ex-Gay Friend". Denizet-Lewis is a co-producer on the film. The film is directed by Justin Kelly.
Additional stills show the main characters at a rave party, Carver and Quinto together, Franco alone and despondent in what appears to be a tiled bathroom, Franco and Quinto kissing, and Franco embracing Emma Roberts.
Check them out, AFTER THE JUMP…