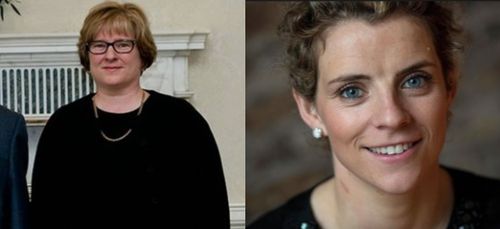 On the heels of Irish Health Minister Leo Varadkar's public coming out, an Irish Courts Service spokesperson revealed that Justice Aileen Donnelly (above left) is Ireland's first openly gay serving member of the High Court reports Irish News. Justice Donnelly has been openly gay for many years, and earlier this week she was publicly named on blog theoutmost.com as openly gay, bringing public attention to her orientation. Donnelly's partner, Susan, was present at Donnelly's appointment in July. "Justice Donnelly is in a very happy relationship with her partner Susan," the Irish Courts Service spokesperson said.
Donnelly was educated at UCD and the King's Inn before being called to the Bar in 1988, and later called to the Inner Bar in 2004. She is also a board member and co-chair of the Irish Council for Civil Liberties between 1996 and 2002.
Additionally, Cork ladies football legend Valerie Mulcahy became the first female GAA player to publicly reveal that she is gay. Mulcahy, a schoolteacher with nine All-Ireland titles and five Allstar titles to her name, is featured on the RTE documentary Coming out of the Curve, hosted by former Rebel goalkeeper Donal Óg Cusack. Mulcahy discussed her coming out with the public at the launch of the new Women's Gaelic Players Association, which she happens to be the founder of.
Said Mulcahy:
"Anyone who knows me knows that my sexual orientation is not everything about me. They know who I am, they know I'm an athlete and that I'd rather they'd talk about my skills and football expertise.
"We are female, we are athletes, it's just one small part of us. For some people it's important, but it doesn't necessarily have to define everything that I am."
The increase of LGBT visibility among Irish government officials, including Varadkar, and public figures could prove crucial in the country's upcoming referendum on same-sex marriage in May. Irish Labour Party member Dominic Hannigan expressed that disaffected voters, mainly those who don't know or interact with LGBT people, present the biggest challenge in getting same-sex marriage passed in the country and believes that increased LGBT visibility is the key to tipping the scales in same-sex marriage's favor.