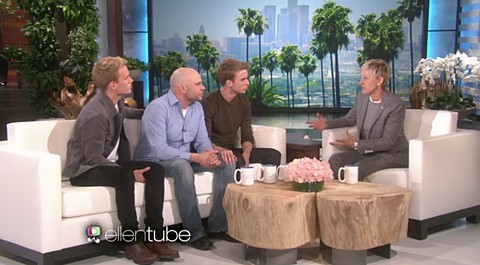 Last week popular YouTube vloggers Austin and Aaron Rhodes posted a video they shot of themselves coming out to their father shortly after coming out to their 56,000 subscribers.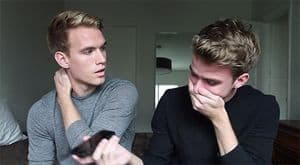 The emotional video quickly went viral and has been viewed more than 14.5 million times as of this posting.
Ellen DeGeneres this week welcomed Aaron, Austin and their dad to her show. After hearing the twins' story, Ellen spoke with dad, who told his side of the story:
"When they called I knew they were crying and something was wrong. As a father you just feel it. What's wrong? I could hear it coming from them, their voices. When they told me, I just felt as though, the only thing  came through me was 'I love you both. I love you both unconditionally. You're my children. I can't undo being your father and I don't want to…' I really feel like now there's a weight off both our sides. Now I feel like we can talk about anything. I was very proud of my boys."
Ellen praised his reaction:
"That is the right thing to say … 'I love you both'. Even if you don't fully understand it right now there are ways to understand it and time will help with that…I can't tell you how amazing it is for you to just love them and accept them."
Ellen also gave the twins a special gift to help them get settled in L.A..
Watch, AFTER THE JUMP…