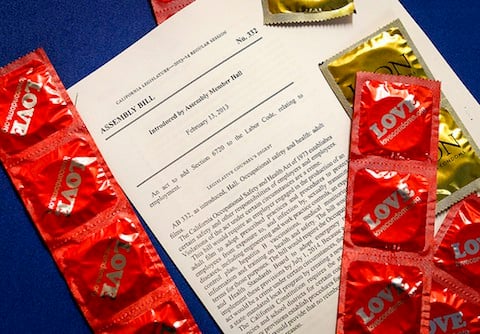 In November 2012 Los Angeles County passed Measure B, which was directed at porn production in the county and required, among other things, that porn actors wear condoms during intercourse. A subsequent attempt to spread the mandate statewide with AB 1576 last year was voted down, despite the full and vocal support of the AIDS Healthcare Foundation.
All of this has stirred up a variety of conversations, including the rights of grown adults to take risks, the responsibilities of their employers to protect them, the efficacy of condoms, and the utility and effectiveness of PrEP. Jim Pickett, director of Prevention Advocacy for the AIDS Foundation of Chicago, is viewing all of this focus on the regulation of the porn industry as unnecessary, saying in an interview with TheBody.com:
I've never been a fan of legislating problems that don't exist. Condoms in or out of porn don't begin to address the approximately 50,000 new HIV infections in the United States every year, mostly among young, gay black men. This ruling does absolutely nothing for them and it ignores that we have a scientifically-proven, CDC-endorsed tool to prevent HIV called PrEP — among other non-condom options. Condoms are only one method of protection; they are not alone.
There are certainly plausible arguments to be made for people wanting to emulate what they see in porn, as welll as for employers mandating measures to protect their employees, but the time, effort, and money spent into creating these measures and bills seem to come more from emotional reactions to change than genuine attempts to solve a problem. Or, perhaps more generously, are going about solving the problem of HIV transmission rates in the least effective way possible.