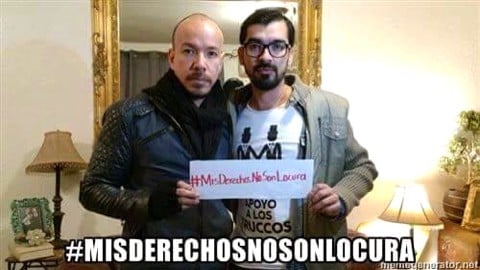 After a complaint alleging they "suffer from madness," a gay couple was again barred from marrying in Baja Caiifornia, Mexico. 
Victor Manuel Aguirrre and Fernando Urias (above) have been attempting to become the first same-sex couple to marry in Mexicali, the capital of Baja California state, since June 2013 — and a year later they obtained a favorable ruling from the Mexican Supreme Court that for now applies only to them. 
Two months ago, Mexicali officials cited a paperwork error in refusing to perform a civil ceremony for the couple. On Saturday, Aguirrre and Urias were again scheduled for a ceremony at Mexicali City Hall.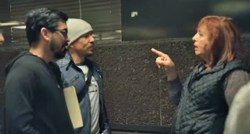 But the anti-gay activist who gives mandatory premarital talks for same-sex couples refused to certify their attendance on Thursday (right), before lodging a formal complaint. 
The U-T San Diego reports: 
Saturday's ceremony had been on the civil registry's calendar for weeks. Hours after a spokesman for the city had confirmed early in the day that the wedding would take place, a top city official said the event had been canceled due to a complaint that the two men "suffer from madness."

The accuser was Angelica Guadalupe Gonzalez Sanchez, president of the Coalition of Baja California Families, who with her husband gives mandatory pre-marital talks to couples preparing for civil wedding ceremonies at Mexicali City Hall.

In her complaint, Gonzalez said the pair had been "aggressive and impertinent" on Thursday after she refused to certify their attendance in her talk, and her husband told them that the sessions were intended for heterosexual couples.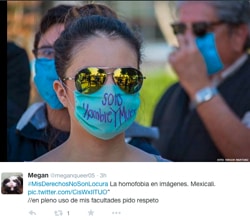 After Aguirrre and Urias arrived at City Hall, the doors were locked and they were met by anti-gay protesters donning surgical masks saying "only a man and a woman." But the couple remains undeterred, the newspaper reports:   
"Of course, we are going to continue to try," Aguirre said as he stood outside City Hall.

"One day, their tricks will end, and we will never get tired of trying," said Urias.

Same-sex marriages have been performed in Mexico since 2010, when Mexico City revised its civil code, and a state legislature followed suit last year in the state of Coahuila. But in most of Mexico, individual couples have been waging battles through the court system.
In response to the latest denial, Mexican actor Feilpe Najera launched the social media hashtag #MisDerechosNoSonLocura, or "my rights are not madness." There's also a Facebook page dedicated to the cause. 
Watch a video of the anti-gay activist refusing to certify the couple's attendance at the premarital talk, AFTER THE JUMP …