Lawmakers in both houses of Congress reintroduced legislation on Thursday to create a special U.S. envoy to advance LGBT rights internationally, Reuters reports: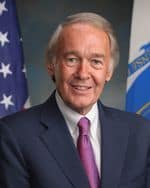 The International Human Rights Defense Act, spearheaded by Sen. Edward Markey (pictured) of Massachusetts and Rep. Alan Lowenthal of California, both Democrats, would appoint a special envoy within the U.S. Department of State to coordinate efforts to prevent discrimination and advance the rights of LGBT people worldwide.
"When President Obama addressed the nation and committed to defending the human rights of the LGBT community, we made that commitment to the world," Markey said in a statement, referring to the State of the Union address earlier this month.
"With the rights of the LGBT community under attack around the globe, we must stand hand-in-hand with them in the struggle for recognition and equality everywhere," he said.
LGBT people in countries like Uganda, Russia, Nigeria and other places where they are oppressed would benefit from the new directive, Reuters adds:
If passed, the bicameral legislation would direct the Department of State to make preventing and responding to discrimination and violence against the international LGBT community a foreign policy priority, as well as coordinate efforts to promote LGBT rights globally.