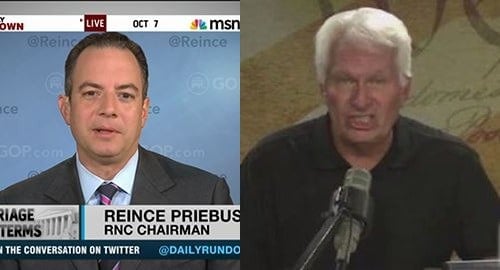 Today, advocacy group People for the American Way sent a letter to the Republican National Committee urging RNC Chairman Reince Priebus to cancel the upcoming GOP trip to Israel funded by the extreme right-wing hate group American Family Association.
Those who follow Towleroad regularly know PFAW's Right Wing Watch blog has been the key player in exposing AFA and its (now-former) spokeshater Bryan Fischer's bigotry. They've also kept tabs on David Lane, an anti-gay, Christian extremist who is helping organize the RNC trip to Israel.
Wrote PFAW President Michael Keegan in part:
"Although we have no objection to RNC members travelling to Israel, we urge you not to collaborate with those who are funding and coordinating this trip. The American Family Association and Mr. Lane have made clear that they view the Republican Party as a vehicle for imposing a U.S. government that is operated by and for conservative Christians, at the expense of those of other faiths and no faith, and those Christians who do not share their particular beliefs." […]
The American Family Association also holds troubling views about the role of religion in American government and regularly promotes false smears against LGBT people. Although the AFA recently sought to distance itself from its own inflammatory spokesman, Bryan Fischer, it continues to offer him a prominent platform on its radio network, American Family Radio. And AFA still employs as its governmental affairs director Sandy Rios, who along with other radical statements, has warned that "powerful Jewish forces" are using groups like the American Civil Liberties Union to destroy America and just this week mocked the notion that "God is fond of atheist Jews who occupy the land in Israel."
And if you missed Rachel Maddow's spotlight last night on the AFA's desperate attempt to distance itself from Fischer in the lead-up to tomorrow's trip, be sure and check that out HERE.