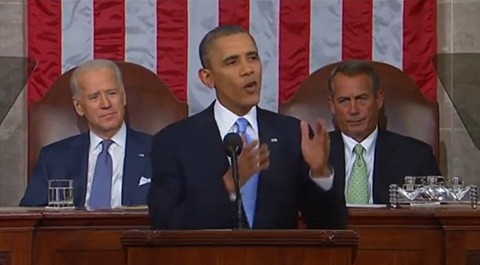 Tonight, President Obama will address a joint session of Congress and deliver his sixth State of the Union address. The address is set to begin at 9 PM ET.
The President has been urged to address LGBT issues in tonight's address by key advocates, particularly the question of non-discrimination protections for LGBT Americans as The Washington Blade notes.
Andy also reported earlier that Congresswoman Debbie Wasserman Schultz has invited a gay couple from Florida who were the second same-sex couple to wed in the Sunshine State after its ban on gay marriage came down earlier this month. Be sure to watch for them in the chamber.
Watch the livestream of the President fulfilling his duties under Article II of the Constitution, AFTER THE JUMP…
Do you think President Obama will address protections against discrimination for LGBT Americans? If so, will the President (and any proposed legislation) receive applause from both sides of the aisle? Or will Congress continue to make us sick? Watch tonight to find out.