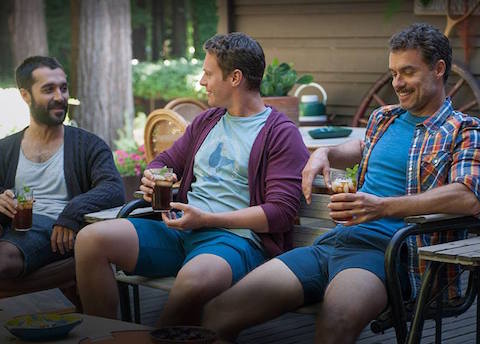 Well, we're back! Looking's second season landed on HBO with a weekend woodsy getaway and a raging woodland dance party.
It was an interesting choice to start this season outside the show's usual San Francisco-metro setting. It was a little jarring to see the boys out in the woods instead of on the San Francisco streets, and that added to the unsettling feeling of not being entirely sure what's going on in the characters' lives since we last left them. As a viewer, the disorienting effect successfully made me feel as unsteady as Patrick (Jonathan Groff), Dom and Agustín (Frankie J. Alvarez) each do at this point in their lives.
See more thoughts from tonight's episode and share your own, AFTER THE JUMP …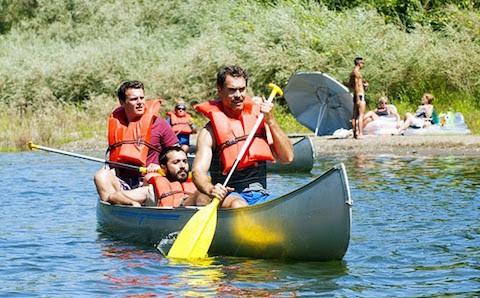 Agustín probably had the hardest season last season, emerging as the least likable member of the show's primary trio. I encourage you to give him another shot. In tonight's episode, when he tells Patrick, "I deal with being like a shitty person by being bad, you do it by being good," it really colors some of his less attractive behavior. It doesn't forgive him for his selfish choices, but at least it adds some depth to his reasoning. He's got a long way to go, but I'm willing to come along.
The most revealing scene with Patrick, in my opinion, wasn't his molly-fueled tryst with Kevin (Russell Tovey). It was his admiration for the redwood. "Over 1,000 years, and it's just stood there knowing exactly what its purpose was." Projecting much? It doesn't take a psychoanalyst to see why Patrick might appreciate the tree's perceived certainty of self. The way the friends allude to Patrick's lingering feelings for Richie (Raúl Castillo) (is it guilt? regret? longing?) and his reluctance to admit to them that he's sleeping with Kevin are just the latest examples of his late-20s identity crisis.
Even though we didn't see Lynn (Scott Bakula) in this episode, his presence loomed large. Of course there was that enormous portrait that hung in the cabin the boys were staying in, but there was also his photos, laying open while Dom (Murray Bartlett) went down on the guy he met at the party. We probably spent the least time with Dom compared to the other main three characters, but any shirtless scene with Dom is welcome to me.
I asked Looking creator Michael Lannan about what interested him in Dom's open relationship during out chat last week:
Towleroad: Another element this season is re-exploring is open relationships. What's different between Lynn and Dom compared to Agustin and Frank? What made you want to re-examine that dynamic?

Michael Lannan: Lynn is from a different generation. He has had so many more relationships than Dom or the other characters. I think coming from the place that he's coming from and being the age that he is, he's probably experienced a lot of different kinds of relationships. Gay marriage was never really an option for him as a young guy. For someone like that, and someone who lives in San Francisco, there's a lot more flexible ideas about what a relationship is. Lynn is such a grounded, wise character, too. We wanted to see how that would play out. It's so different from the way Agustin was going about it, which was so reckless and ego driven. To see Lynn approach it in a different way, we thought would be really interesting.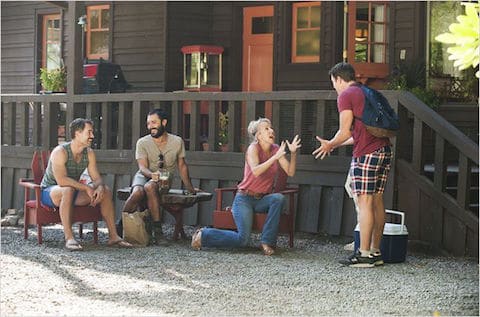 The two characters I was most excited to see tonight were Doris (Lauren Weedman) and Eddie (Daniel Franzese). Doris still has that acid tongue, and, now a series regular, I'm looking forward to spending even more time with her this season. As for Eddie, he's a welcome addition to the cast. There's an ease about him that fits into Looking's natural rhythm, but he's also got this vibrancy and charisma that electrifies the scenes in which he appears. We only got a small glimpse of him in this time, but he's one to keep an eye on in upcoming episodes.
What did you think of the first episode back?