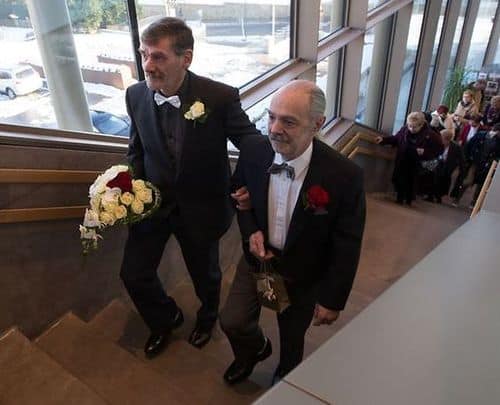 (photo credit: Claude Piscitelli)
Same-sex couples in Luxembourg were able to finally tie the knot yesterday after the country's marriage equality law went into effect January 1. The country's Chamber of Deputies overwhelmingly approved the law back in June  - which also opened the door for gay couples to adopt children. 
Luxembourg Wort reports Jean Paul Olinger and Henri Lorenzo Huber (pictured above) were the first same-sex couple to marry in the wealthy, landlocked Western European country. Wedding dates are also set in cities across the country such as Walferdange and Luxembourg City.
The country's Prime Minister, Xavier Bettel, is openly gay and announced in August his plans to marry his partner Gauthier Destenay. 
More photos here.