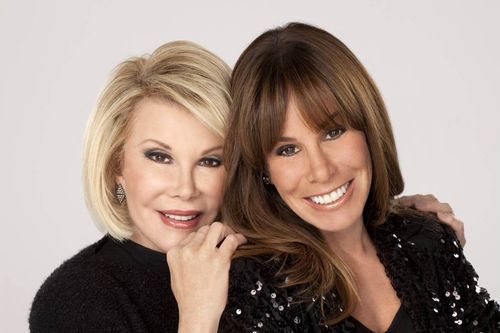 Melissa Rivers has filed a malpractice suit against Yorkville Endoscopy, alleging doctors at the NYC clinic were "reckless, grossly negligent and wanton" in the treatment of her mother Joan last August following surgery complications that ultimately resulted in the death of the 81-year-old comedian.   
The New York Times reports:
The lawyer for Joan Rivers's voice doctor, Gwen Korovin, is denying allegations that she panicked and then abandoned Ms. Rivers when she went into cardiac arrest during a routine procedure last summer in New York.
Dr. Korovin's lawyer said that contrary to claims in a malpractice lawsuit filed by Ms. Rivers's daughter, Melissa, Dr. Korovin had faithfully stood by her patient and was in fact the last doctor remaining in the procedure room, not the first to leave.
"What happened was she never left the room," the lawyer, William Lewis, said in an interview this week. "Not only did she never leave the room, she was the last doctor to leave the room after Miss Rivers was taken away by E.M.S. in an ambulance."
USA Today adds:
"The level of medical mismanagement, incompetency, disrespect and outrageous behavior is shocking and frankly, almost incomprehensible, " Melissa said in a statement.
Among other things, the clinic doctors and Joan's own doctor are accused of allowing a cellphone selfie to be snapped of Rivers while she was unconscious on the operating table.
"The conduct is unfortunately outrageous," said one of her lawyers, Ben Rubinowitz. "Not only is there medical mismanagement but you have a situation where doctors are taking photos of a patient when she needed assistance. They didn't recognize the fact that she wasn't getting sufficient oxygen."
Still, Melissa said filing the suit was one of the most difficult decisions she had to make.
"What ultimately guided me was my unwavering belief that no family should ever have to go through what my mother, Cooper and I have been through," she said, referring to her son.
The Washington Post notes that the complaint "echoes what federal investigators for the Centers for Medicare and Medicaid Services outlined in a report last fall." Yorkville Endoscopy is scheduled to lose its federal accreditation as a result of the investigation.