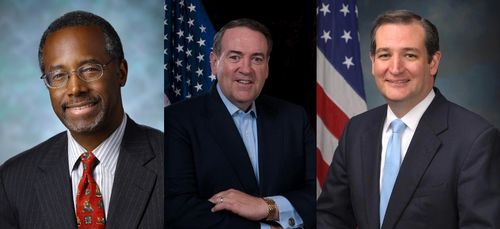 With gay marriage legal in most states and the Supreme Court set to weigh in this summer, likely ruling in favor of marriage equality, this issue should be all but done with by now. Even members of the GOP elite are switching in favor and would be happy to move on from the issue…but their constituents won't let them, as Politico points out. 
Iowa Senate contender Sam Clovis said: 
If you dodge the question, then it's the kiss of death. Candidates have got to be declarative about where they stand. Period. If you're not vocally pro-life and pro-traditional marriage, I don't think you can win here because you're going to get hammered.
The elite may desire to move on or even change, and the less-elite like Jeb Bush, Chris Christie, and Scott Walker are willing to concede the loss, but the Tea Party is only too happy to keep wallowing in the issue with Ben Carson, Bobby Jindal, Mike Huckabee, and Ted Cruz all continuing to wave the "gay marriage is evil" banner:
"I don't think it's over. I don't hear any fat lady singing. I think we have to continue to stand up for what we believe in." – Ben Carson
"There's no such thing in the Constitution as judicial supremacy where the courts make a ruling and it becomes quote 'the law of the land." – Mike Huckabee
"I know that many politicians are evolving, or so-called evolving, on this issue based on the polls. I don't change my views based on the polls." – Bobby Jindal
"From the beginning of this country, marriage has been a question of the states, and we should not have the federal government, or unelected judges, setting aside the policy judgment of the elected legislatures and imposing their own instead." – Ted Cruz
Making the issue even nastier and more complicated is the insistence of evangelicals entangling the issue of legal, civil gay marriage with religious liberty violations.