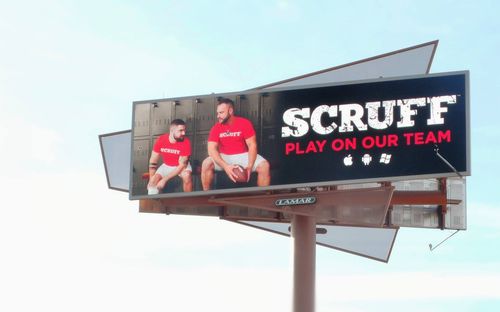 It looks like Scruff is appealing toward its "masc4masc" demographic as the dating/hookup app bought a billboard outside of University of Phoenix Stadium ahead of the Super Bowl and posted a 48-foot ad featuring two guys in a locker room sizing each other up with the slogan "Play On Our Team," reports Refinery29. A press release from Scruff explains why they bought the Super Bowl themed ad.
Said Scruff:
"At a time when professional NFL players like Michael Sam and Kwame Harris bravely come out to the world and some coaches admit to not wanting gay players on their teams, [Scruff]… is sending a message to the NFL — by putting up a Phoenix billboard advertisement that's certain to start a conversation about perception and acceptance among both gay and straight sports fans."
Scruff's bold move to challenge the NFL on its homophobia may elicit homophobic criticism and condemnation from sports fans and players alike, that is if the scores of straight men pouring into the stadium on Sunday can even figure out what Scruff even is.