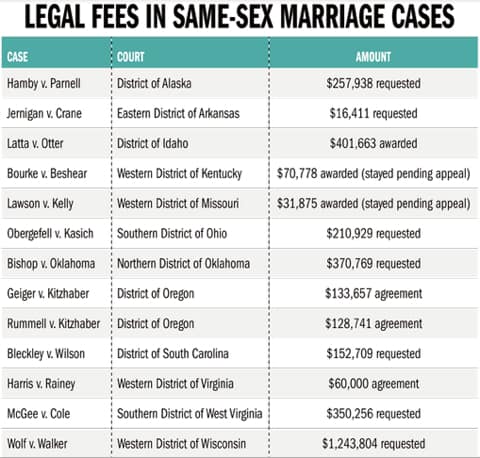 Plaintiffs in successful same-sex marriage lawsuits have been awarded more than $800,000 in attorneys fees' from states that defended the bans, with another $2.6 million in requests pending, according to a new report from The National Law Journal: 
Federal district judges across the country have issued nearly three dozen rulings since late 2013 declaring state same-sex marriage bans unconstitutional. Attorney fee petitions haven't been filed yet in the majority of those cases as they go before circuit courts and the U.S. Supreme Court. The fee awards, agreements and requests to date offer an early snapshot of what these landmark civil rights cases could cost taxpayers. … 

Plaintiffs who prevail in federal civil rights cases can collect legal fees from the losing side. Congress set up the fee-shifting rule as an incentive for lawyers to take on time-consuming and expensive civil rights litigation, said Deborah Ferguson, lead counsel for the couples who fought Idaho's gay marriage ban.
In Idaho, the plaintiffs' attorneys were awarded a whopping $410,663 — the most in any state thus far. But that hasn't stopped Republican Gov. Butch Otter from continuing his futile defense of the state's marriage ban in court. The other states where plaintiffs' attorneys fees have been awarded or agreed to in same-sex marriage cases are Kentucky, Missouri, Oregon and Virginia. Requests are pending in Alaska, Arkansas, Ohio, Oklahoma, South Carolina, West Virginia and Wisconsin. 
Of course, the plaintiffs' attorneys fees don't include the cost to taxpayers of states paying their lawyers or hiring outside counsel to defend the bans — or, for that matter, lost revenue from wedding-related spending where same-sex marriage is still not legal. 
All told, it seems that defending discrimination isn't cheap, and states that continue to fight same-sex marriage better be prepared to pay up. And the irony is, many of the same folks who advocate lower taxes are the same ones fighting hardest to deprive same-sex couples of the freedom to marry.