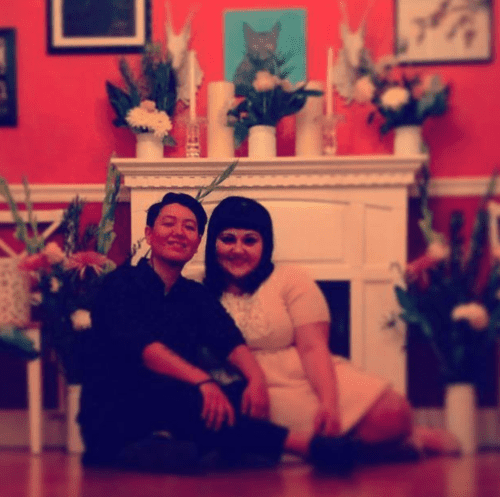 Gossip lead singer Beth Ditto revealed on Facebook earlier this week that she legally married her fiancé Kristin Ogata in Oregon on New Year's Eve reports Winnipeg Free Press. The singer originally had a non-legally binding ceremony in Maui with Ogata in July 2013, but with the Oregon ceremony the couple are officially married according to state law. Ditto took time to thank those who fought for gay marriage throughout the U.S. in the last year with a post on Facebook.
Said Ditto:
"Legally married finally, a year later!
"Thanks everyone who fought to make gay marriage legal in Oregon! In 2015, the whole U.S.!"
Full details of the Oregon ceremony are still under wraps however, in Ditto's 2013 Maui ceremony she wore a Jean Paul Gaultier gown with a low-cut bodice, tulle skirt and a veil to walk down the aisle. Ditto chose not to wear shoes during the ceremony, walking down the aisle barefoot. Ogata wore a three-piece suit jacket, shirt and shorts for the occasion. Ogata worked as Ditto's assistant during the production of the group's album "Standing in the Way of Control." At the time Ditto developed strong feelings for Ogata, but she was still in a nine-year relationship with Freddie Fagula; Ditto ended the relationship in January 2010 and explained the breakup and her relationship with Ogata.
Said Ditto:
"It was something that I kept hidden deep inside of me. But everyone knew. Even people at parties and clubs would be like, 'When are they going to get together?' There was always a little guilt inside of me because I felt I was cheating, but I never cheated. We never did anything … I dated Freddie for nine years, and I was always worried it was going to end. With Kristen I never worry about it ending, I just feel completely full and whole."
Ditto has yet to post any photos from the Oregon ceremony except one of the couple together with a caption announcing their marriage on Facebook.