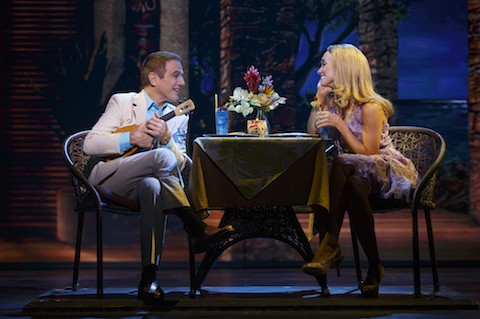 BY NAVEEN KUMAR
Honeymoon in Vegas, a new musical comedy that opened on Broadway January 15 at the Nederlander Theatre, feels much like an extended trip to its title city: fun, shameless and even a bit thrilling at first, but by mid-stay you may find yourself feeling restless, tinged with regret and just a little bit used.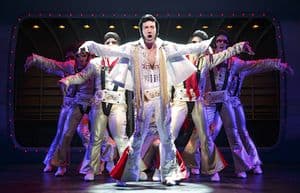 Based on the 1992 film starring Nicholas Cage and Sarah Jessica Parker, the musical was written for the stage by the movie's writer and director Andrew Bergman (also known for comedy classics Blazing Saddles and Soapdish), with a characteristically clever and lovely score by Jason Robert Brown (The Bridges of Madison County and The Last Five Years).
By turns dirty and family friendly, the show tells the story of everyman Jack (Rob McClure) and his girlfriend Betsy (Brynn O'Malley), who has all her ducks in a row but no ring on her finger. Standing between them and the altar is Jack's dead mom, Bea (Nancy Opel), who forced a deathbed promise on her son: that he'd never wed, because no one could ever love him as much as she does. Despite the curse, Jack bites the bullet and flies Betsy from Brooklyn to Sin City to get hitched. Mayhem ensues when Vegas vet and high roller Tommy (Tony Danza) eyes Betsy and hatches a plan to snatch her away (she's a ringer for his dead wife).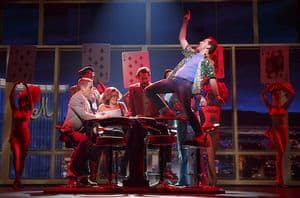 The musical's '90s-New York brand of comedy works in its favor (off-beat yet on the nose), particularly in Brown's playful lyrics (what rhymes better with fiancé than Jay Z and Beyoncé?). Danza naturally finds himself in his element here, and exudes the comfortable charm that became his small screen signature in shows like Taxi and Who's the Boss. He has a smooth, mellow croon that does well with softer, Sinatra-like numbers, though he stands on shakier ground when asked to deliver more forceful tunes. McClure (Tony nominated for Chaplin: The Musical) and O'Malley pair well together and make nice work of Brown's score and the show's humor.
Anyone who wondered how a woman who looks like Sarah Jessica Parker could wind up torn between Nick Cage and James Caan will perhaps have less to ponder here: We are, by now, well used to male-fantasy narratives in which the schlub ends up with the knockout (plus, Danza's not looking too shabby and McClure didn't quite crawl from the gutter, either).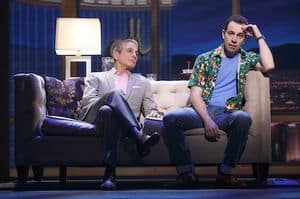 But unfortunately and to its detriment, Bergman's stage adaptation is uncomfortably (and bizarrely) heavy on both masculine neuroses and blatant misogyny. The story's mommy issues are writ large (scaled up significantly from the movie), and its women are either dead nags (like mom), desperate to wed and procreate (Betsy), or else they're showgirls, airheads or hookers. A tasteless number during the characters' sojourn in Hawaii finds a hypersexualized, overtly stereotyped Polynesian whore vigorously seducing the schlub on boss' orders.
Vegas is a town of obvious, low-hanging thrills and sensory pleasures, catered, more often than not, to male desire. Bergman and Brown's musical has plenty of both, mixed in with moments of broad appeal. But the longer this trip goes on, the more glaring it becomes just whose honeymoon this is—and that he might be in need of a diaper change.
Recent theatre features…
Jake Gyllenhaal and Ruth Wilson Open in 'Constellations' on Broadway: REVIEW
Towleroad's Top 10 Plays and Musicals of 2014
Hugh Jackman Goes Fishing for Love in 'The River' on Broadway: REVIEW
John Cameron Mitchell on Returning to 'Hedwig': INTERVIEW
Maggie Gyllenhaal, Ewan McGregor, Cynthia Nixon Open in 'The Real Thing' on Broadway: REVIEW
Follow Naveen Kumar on Twitter: @Mr_NaveenKumar (photos: joan marcus)