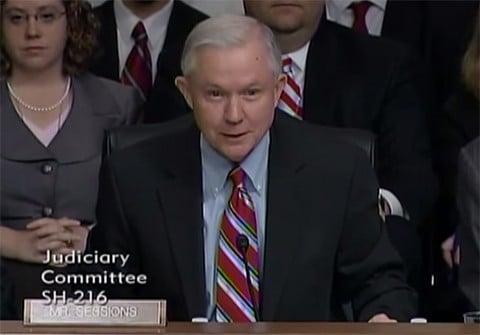 Alabama Senator Jeff Sessions, a Republican on the judiciary committee, blasted judges ruling in favor of same-sex marriage following the Supreme Court's decision yesterday not to extend the stay of a federal judge's ruling striking down Alabama's ban on same-sex marriage, effectively making same-sex marriage legal in the Heart of Dixie.
Sessions told CQ Roll Call that he believes judges' rulings in favor of marriage equality have more to do with sentiment that an accurate interpretation of the U.S. Constitution:
"I think it's an unhealthy trend that judges feel that they're somehow reflecting popular opinion when first of all, it's not popular opinion, and secondly, who are they to be ruling on cases based on how they feel."
Sessions went on to lambast what he saw as an "activist judiciary" that needed to respect the law "as it is":
"The attorney general of the state of Alabama has appealed, which I support. And while a number of courts have held the way [the] Alabama court has, others have not, and to me this line of cases … represents an activist judiciary," Sessions said. "No Congress has ever passed a law or a constitutional amendment that would ever would ever have been thought to have this result."
"So, I think the proper role of the federal courts is to follow the law as it is, not as they wish it, might wish it to be."
Sessions has been a vocal opponent of marriage equality. He also grilled then Supreme Court nominee Elena Kagan on her opposition to Don't Ask, Don't Tell during her senate confirmation hearings and said he would do crack cocaine at Sonia Sotomayor's hearings.