Alabama Governor Robert Bentley has issued a statement on the issuance of same-sex marriage licenses by probate judges in the state.
Said Bentley: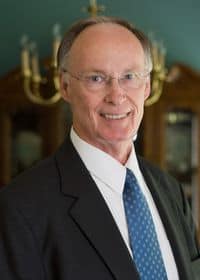 "The issue of same sex marriage will be finally decided by the U.S. Supreme Court later this year," Governor Robert Bentley said. "I have great respect for the legal process, and the protections that the law provides for our people. I am disappointed that a single Federal court judge disregarded the vote of the Alabama people to define marriage as between a man and woman.
"I agree with the dissenting opinion from U.S. Supreme Court Justices Clarence Thomas and Antonin Scalia when they stated, 'Today's decision represents yet another example of this Court's cavalier attitude toward the States.  Over the past few months, the Court has repeatedly denied stays of lower court judgments enjoining the enforcement of state laws on questionable constitutional grounds.'
"This issue has created confusion with conflicting direction for Probate Judges in Alabama. Probate Judges have a unique responsibility in our state, and I support them. I will not take any action against Probate Judges, which would only serve to further complicate this issue.
"We will follow the rule of law in Alabama, and allow the issue of same sex marriage to be worked out through the proper legal channels."
Earlier today we reported judges in Tuscaloosa, Baldwin, Madison, Jackson, and Shelby counties were not issuing licenses to same-sex couples.
In Mobile County, meanwhile, attorneys for marriage plaintiffs Cari Searcy and Kim McKeand have asked a federal judge to hold Probate Judge Don Davis (pictured below) in contempt for refusing to issue licenses today.
Al.com reports: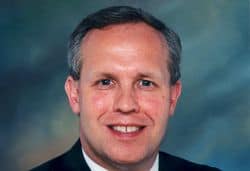 The lawyers, Christine Hernandez and David Kennedy, at first urged patience as Davis huddled with lawyers to figure out how to respond to conflicting court orders from U.S. District Judge Callie V.S. "Ginny" Granade and Alabama Supreme Court Chief Justice Roy Moore.
With Davis refusing to make a decision one way or the other, the office remained closed to couples seeking marriage license but eventually opened to people wishing to record deeds and conduct other business.
Finally, Davis took the bench, prompting Kennedy and Hernandez to ask Granade to hold him in contempt and take any enforcement action she deems appropriate. Henandez told reporters that remedies could include fines and even incarceration. "There's a very real possibility somebody could be going to jail," she said. […]
Hernandez said the "position of silence" adopted by Davis is no different that former Gov. George Wallace's attempts to beat back integration.
"It's no different than standing in the school door. It's exactly the same as Governor Wallace. The only difference is that Judge Davis is not physically standing here."
As for Moore himself, he's busy on Facebook lamenting what's going on in Alabama and posting Bible verses. What he really should be doing though is searching for a new job…