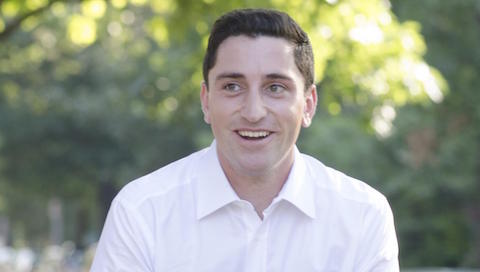 Suffolk County will have an open seat in the county legislature when Second District seat holder Jay Schneiderman of the Independent Party is termed out at the end of the year after 12 years in the position. Likely candidate in the running for the seat is Amos Goodman of Springs (pictured above), a 31-year-old financial consultant who will be running on the Republican ticket.
Goodman is also openly gay, a facet of his personality that he makes no effort to hide, but says,
It's probably the least interesting thing I am. It's not a secret, but it's one of 20 things I am. I'm not embarrassed about it. It's not something I have to hide, but it's not something I have to telegraph at every turn.
Perhaps more interesting is that Goodman is a member of both the National Rifle Association and the Human Rights Campaign.
The chairs of both South Fork Republican committees say that Goodman should be the choice in November, and Goodman has received support from party leadership at all levels. Goodman will be the first openly gay Republican to run for Long Island legislature. The Democrats have not yet revealed their choice for candidacy to oppose Goodman this fall.