Arkansas Governor Asa Hutchinson has taken receipt of SB202, a bill passed by the state legislature last week which prohibits Arkansas municipalities from passing non-discrimination laws protecting people based on sexual orientation or gender identity.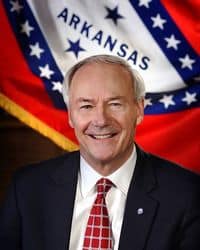 Hutchinson's office told Buzzfeed this afternoon: "As the Governor stated Friday regarding SB202, he will allow the bill to go into law without his signature."
The bill would go into law if Hutchinson refuses to sign or veto it within five days (excluding Sunday).
HRC Arkansas has called for the bill's veto.
Said HRC Arkansas State Director Kendra R. Johnson in a press release:
"The Governor has the power to tell the nation that Arkansas welcomes all people, regardless of sexual orientation or gender identity. Senate Bill 202 destroys local control and denies municipal governments the ability to pass civil rights protections for people in their cities. Discrimination is not an Arkansas value, and the Governor should take swift, immediate action to veto SB202. Governor Hutchinson has said he will not sign the bill and will allow it to become law. That is an indication that even he has pause for concern on this anti-LGBT bill."
National HRC President Chad Griffin, an Arkansas native, has not yet commented on the bill and there are no signs the national organization plans to engage on it.
The WaPo adds:
It's called the "Intrastate Commerce Improvement Act," and it's written in the key of dog-whistle. The bill contends that, in order for the state to attract businesses, each of its cities and counties must follow the same rules about who they permit discrimination against…
…There is some question about whether the Arkansas legislation is even constitutional. Rep. Clarke Tucker (D ) argued on the House floor on Friday that SB 202 violates the Equal Protection Act.
Earlier today, we reported on an open letter written by Donald Collins, the gay brother of Arkansas Rep. Charlie Collins, who voted to approve the bill, scolding his brother for supporting discrimination. The letter was posted on VetoSB202, a 'take action' site which appeared over the weekend which provides phone numbers and contact information to Hutchinson's office.